Clickfunnels VS Kajabi Review UPDATED 7-29-19
When covering the Clickfunnels vs. Kajabi debate, there are a lot of things to take into consideration. Below is an exhaustive review, and if you're just here looking for the Easter egg, the answer, and my true opinion; go ahead and scroll to the last paragraph. Otherwise, we'll start with the pricing since that is usually the first question in our minds.
Clickfunnels vs. Kajabi-Pricing and Features
If you were just to compare Kajabi and Clickfunnels solely based on prices and features, Clickfunnels takes the cake.
Clickfunnels Pricing
ClickFunnels has two reasonable payment options- a $97 per month and package and a $297 per month package in which you get almost anything and everything you need.
Starter Account $97
You will have the ability to create twenty funnels, over 100 landing pages and up to 20,000 visitors per month.
Etison Suite $297
With this you receive Actionetics (Clickfunnel's auto-responder), and the Backpack affiliate system. If you're looking to make Clickfunnels your all-in-one tool, even including list building, then this is what you need!
When you consider all that comes with the standard version of Clickfunnels—all the funnels you get, the landing pages, squeeze pages, thank you pages, checkout cards, order bumps, upsell pages, down sell pages, the memberships, the webinars—you can't really compete with that. Clickfunnels is doing great because of the value their customers receive with such a small price.
Take a look for yourself to see all the features that come with each pricing option. I would also encourage you in your research to check out my review of Clickfunnels vs. Leadpages.
The cheaper of the two is $97/month.
Here's some of what you get:
20 funnels.

100 landing pages.

A cap of 20,000 for landing page traffic.

Email integration.

A/B split tests.
Etison Suite is $297/month and here are some features it offers:
Unlimited funnels.

Unlimited landing pages.

Unlimited landing page traffic.

Email integration.

A/B split tests.
Here's an overview of ClickFunnels' pricing.
For a complete breakdown of ClickFunnels' pricing, check out this review. (I also let you in on how to get the best deal on ClickFunnels.)
Kajabi Pricing
Kajabi has 3 payment options: $119 per month, $159 per month, and $319 per month. Kajbi's basic plan is $119 a month, which is obviously more than Clickfunnels.
Kajabi pricing
Kajabi has three pricing packages: Basic, Growth and Pro.
Basic is $119/month and allows:
Three products.

Three pipelines.

Unlimited landing pages.

Unlimited marketing emails.

10,000 contacts.

1,000 active members.

One website.

One admin user.
Growth, the best value and most popular plan, is $159/month and allows:
15 products.

15 pipelines.

Unlimited landing pages.

Unlimited marketing emails.

25,000 contacts.

10,000 active users.

One website.

10 admin users.
Pro is $319/month and allows:
100 products.

100 pipelines.

Unlimited landing pages.

2,000,000 marketing emails.

100,000 contacts.

20,000 active members.

3 websites.

25 admin users.
Don't Forget Traffic
Remember that for both Clickfunnels and Kajabi, you'd still need to budget for getting traffic to your site. You could potentially be spending money on:
Blog posts if you outsource writers.

Facebook ads and other social media advertiments.

Email Marketing as you'll need a standalone email service provider like Mailchimp.

Other paid traffic to your website like Native Advertising, and Adwords.

Youtube and other organic means of advertising.
Clickfunnels Features
ClickFunnels features
Manage email leads using Actionetics
Collect leads with persuasive sign-ups to encourage your site visitors to join an email list.
Use these emails to build a list and move your subscribers along your sales funnel.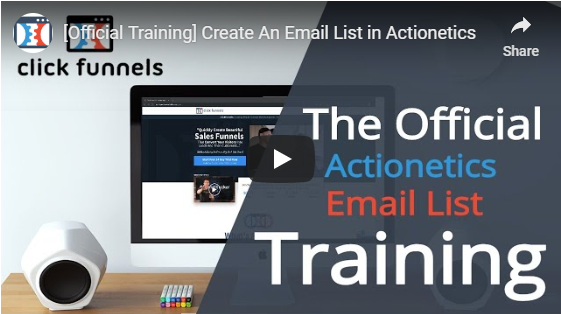 Create long forms for leads
You can also create longer forms to generate leads, so you can gather specific information about your users.
Use this information to inform targeted marketing campaigns.
Tripwire or unboxing funnels
Use this feature to encourage users to buy more products.
During checkout, they will see a pop-up that tells them about the product.
The pop-up will have an easy, 1-click process to add the new product to their cart if they're interested.
Scripts for all your content
Funnel Scripts empowers you to become a genius copywriter (even if you're a complete novice). This web-based tool helps you to create engaging copy for your sales funnels, emails, webinars and much more. Click here for more information about Funnel Scripts, your very own copywriting magic machine.
Create funnels specifically for new products or products that are launching soon.
Run webinars live or create pre-recorded webinars that users can purchase and access at any time.
Easily customize funnels and forms
Incorporate and orchestrate multiple steps throughout the sales funnel process.
You can decide the order of these steps and make the process as simple or complex as you like.
To give you a helping hand, I've got 23 pre-built sales funnels as part of a bundle of free gifts to you when you sign up for a 14-day free trial of ClickFunnels. They're really simple to use since you can import them directly into your ClickFunnels account and tweak them however you want.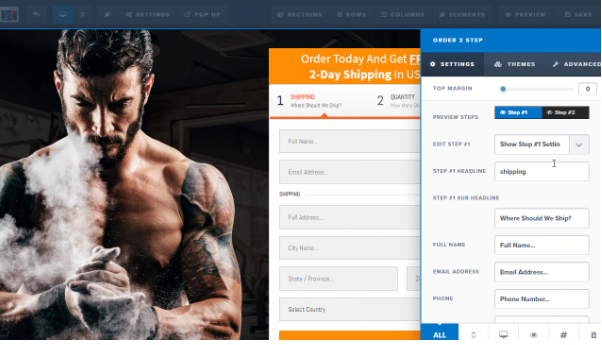 Create membership areas
Membership pages allow users to find their purchased content and access member-only content easily.
Simplify order forms to be as streamlined as easy as possible.
Include your affiliates links and banner ads easily throughout your website.
Decide what content will be on which page and customize their appearance from the pre-made templates.
Leads are recorded in ClickFunnels, so you can easily reference them later for marketing and follow-up.
Create emails that are automatically sent after someone becomes a member or buys a product.
You can easily create, design and schedule emails from templates, so you don't need any third-party services.
Check reports to see who is opening and interacting with your emails.
Run a test of two different funnels to see which one gets the best results.
Kajabi features
You can choose from pre-made site themes and customize them or you can build your own.
You can customize the design of the site, the navigation and the number of pages.
Blog
Easily add a blog to your website to share information with your customers about new products or promotions.
View automatically generated reports to tell you about your sales and site activity for the day, week or month.
Product themes work on any device your audience uses.
Take advantage of interactive features to engage your audience during courses and discussions.
Monitor comments and other engagement from your users, so you can respond to them.
Send announcements easily to users who have opted-in to receive notifications.
Streamline the checkout process, so users don't lose interest because of multiple forms.
Tagging helps to segment your audience, so you can easily create targeted marketing strategies.
Pipelines connect landing pages, email marketing and product offers for a convenient customer experience.
Use pre-built templates (called "blueprints") to help you get started.
Customize forms for membership sign-up, check out, email list sign-up and more.
Leads are collected and stored on Kajabi for future use.
Send emails to members, potential new customers and other opted-in users.
Track the success of these emails with the email analytics feature.
Use assessments throughout courses, so users can gauge how well they're learning.
You can also assign homework and require that users complete it before moving on to the following course sections.
Events-live and scheduled
Host sessions that members can watch live or schedule pre-recorded sessions to run at a specific time.
ClickFunnels vs. Kajabi: pros and cons
ClickFunnels
Pros
ClickFunnels offers a free 14-day trial, so you can give it a spin before you make any commitments.
You also get the following bonuses when you sign up for a free trial using my affiliate link (which, by the way, costs you nothing extra):
Facebook Marketing Madness Training Course – How To Launch High Converting Ads In Any Niche

My Clickfunnels Basic training course

23 Pre-Built Sales Funnels that you can import directly into your Clickfunnels account

How To Rank YouTube Video Fast – Mini Course

Access to a 100-Day Social Media/Affiliate Marketing Bootcamp

Unlimited email support, so I can help you with your sales funnel that you build with Clickfunnels

Training on how to set up custom domains for free inside your Clickfunnels Account

My roadmap to email marketing course

My funnel hacking playbook, so you can mimic what other successful online entrepreneurs do with their sales funnels

1 Free Copy of Russell Brunson's book, DotCom Secrets

Free Training Video On How To Increase Sales By 150% with ClickFunnels
ClickFunnels is very user-friendly
It empowers people who are running online businesses with a budget.
It allows you to build great websites, marketing campaigns and sales funnels easily without an extensive team of techies.
Not only are you saving money by using this platform instead of hiring a tech team, but it's cheaper than its competitors.
Even with the smaller package, you get all the features you need.
ClickFunnels's specialty is sales funnels
If your priority is building strong, effective sales funnels, ClickFunnels is your best option.
Unlimited membership programs
If you're selling a membership, ClickFunnels's smallest package allows for unlimited memberships for your business.
Kajabi only offers 1,000 with the Basic package.
Cons
ClickFunnels's main priority is user-friendliness. Because of that, you may be limited in terms of design options if you have advanced developer skills.
Kajabi
Pros
If you're looking for a platform where you can build websites from scratch, Kajabi would be the better option for you.
Whereas ClickFunnels's main goal is creating excellent sales funnels, Kajabi is a little bit more branched out.
They offer a bit more in terms of website building, blogging, etc.
Cons
Kajabi's platform is more expensive and more limiting in some ways than ClickFunnels.
There are user limits and membership limits that ClickFunnels does not enforce even in their cheapest packages.
Kajabi requires users to have a bit more technical know-how than ClickFunnels does.
Only works with digital products
This may not be a negative for some – for example, maybe you only ever intend to sell digital products.
But, if you plan on expanding your offerings to include physical products, you won't be able to manage the sale and distribution of these products through Kajabi.
This puts limits on what you can and can't do in the future.
Final verdict: ClickFunnels vs. Kajabi
Looking at all of the features, pros and cons above, ClickFunnels takes the lead.
Although Kajabi does offer some extra features, it comes at a high price and it's more suitable for people who offer online courses.
ClickFunnels is easy to use, no matter what your experience level.
It also offers a lot of great essential features to build a profitable online business (whether it's selling physical, digital products or providing online courses) with fewer limits, all at a lower price.
They're both great platforms but, if you can only choose one, I recommend ClickFunnels as I use this platform for all of my businesses.
It really succeeds in its aim of being the all-in-one tool for online businesses and marketers.
Clickfunnels vs. Kajabi- Apples and Oranges
So if we solely look at pricing and features, Clickfunnels wins by a landslide. But truthfully, comparing Clickfunnels to Kajabi is like comparing apples to oranges. They're both fruit, but their taste, bite and texture are incomparable. They both have the same mission of helping your online business succeed with easy drag-and-drop, but their approaches are completely different. If you visit their websites, you'll see how each use language totally independent of one another to harp on their own distinctive strengths.
Kajabi is not sales driven in the way Clickfunnels is. In an office, Kajabi would be the public relations department. Kajabi values customer relations, content delivery and aesthetics. Their software is designed to turn your content into products and build beautiful online courses, membership sites, etc. If you visit their website you'll see that they believe that you're not just selling your content or product, but also the experience and aesthetic in which your content is delivered. More than sales, there is a clear emphasis on helping you create your brand. They want to help you make your content valuable to a variety of customers and for your content to be easily consumed. Kajabi wants to help you be available to your customers with its interactive discussion feature where your customers can engage with you and others. Ultimately, Kajabi's goal is to get your customer in the door, while Clickfunnels wants to help ensure your customer doesn't leave empty handed.
Clickfunnels is not driven by branding, but by SALES, SALES, AND MORE SALES! Clickfunnels wants to help entrepreneurs turn their vision into reality. It's about convenience, efficiency, and ultimately helping you convert your prospects into customers and closing the sale. If you go to Clickfunnel's website, you'll see that Clickfunnels wants to help entrepreneurs be entrepreneurs. They don't want to help you learn how to program and design websites, they want to help you easily build pages inside a sales funnel that is scientifically proven to convert. Perfect Funnel System says used both Clickfunnels and Kajabi, and says that Clickfunnels was definitely a better way to close sales. They're all about getting website visitors to become customers. They even have direct response marketing! Clickfunnels wants you to be able to do everything in a matter of minutes using their templates. They have instructions of simply adding in your own images, content, and other elements to make it your own. "In less than 10 minutes, you can create what would have taken your tech team weeks to do."
Clickfunnels vs. Kajabi- Batman and Robin
The good news is that you don't necessarily have to choose. In 2016, these two companies announced that they were integrating! In this podcast they confess that they really don't see themselves as competitors as much as two distinct software's with the same mission- helping people get their content and product out into the world. Before Clickfunnels and Kajabi, you had to be an expert in hosting accounts, FTP, WordPress- all these different things just to get your message out. With these service platforms, the only thing you need to be an expert in is your product and business. You can click, upload content and create landing pages with ease. Ultimately, these two joined forces to give you more flexibility for selling your product online. No businesses are exactly the same, and rather than compete, their goal is to serve as many marketers, business owners, and entrepreneurs as possible. With this integration, both companies have greatly increased their value. You'll have a higher functionality for doing business online as you'll have Clickfunnel's power to build out an entire sales funnel and Kajabi's content delivery power.
It's a really brilliant integration because you may already have all your funnels set up in ClickFunnels , but you may be interested in some different types of digital products that Kajabi might provide or different membership site options.
Multiple Uses
A lot of people asked for this integration and Kajabi's blog discusses the two ways you can use it:
1. If you want to use Clickfunnels to build out your entire funnel process, the front end to the sale, but then use Kajabi for the entire sales process as well as all the product delivery, that's definitely an option. This allows you to send Kajabi the information of buyers who have purchased a product through your funnel so they can access a membership area within Kajabi from any product in the funnel. Essentially this would mean setting up a complete sales funnel inside Clickfunnels and have the button on your Clickfunnels sales page automatically link to your Kajabi offer. So with this option, Clickfunnels is just handling the front piece and Kajabi does the rest.
2. If you want to use Clickfunnels for the funnel and then Clickfunnels for the order form and then just deliver the product on Kajabi, that's an option too. The membership site would be delivered by Kajabi. Essentially that means using the Clickfunnels shopping cart for the order process, payment collection and then buyer would have access to your Kajabi products upon successful purchase.
Features
New Editor Button Settings
Clickfunnel's blog explains that if a person follows a link with a Kajabi URL pulled into the editor, they can checkout on the Kajabi platform. This feature makes it so easy for a person to choose how their user experience will flow throughout the two platforms.
This works with images and buttons.
So basically, you can build out your optin and sales pages within Clickfunnels and let your contacts complete their payment using Kajabi. That means your buyers can use the one-click upsell through Kajabi.
Easy Set Up
This integration is super easy to get started with! It's just a matter of plugging in your API Key from Clickfunnels or Kajabi and you are good to go!
My Answer to Clickfunnels vs. Kajabi
So here is what I think. If you can't afford both Kajabi and Clickfunnels, I would definitely go with Clickfunnels. Honestly, if you're reading this post, your business probably only needs Clickfunnels at this point. Kajabi does have great membership sites, but you can also build a membership funnel with Clickfunnels. At the very least, I would encourage you to try out a free 14 day trial with Clickfunnels.
Disclaimer: I am an affiliate of Click Funnels and will get paid a commission if you choose to start an account by using one of my links in this post…at no additional cost to you. Plus, if you do use my links I will provide you with bonus materials …AND I will share with you my highest converting funnels directly from my account. Sound crazy? Try me. Check out the below section that covers the bonuses I include.
– Facebook Marketing Madness Training Course – How To Launch High Converting Ads In Any Niche
– My Clickfunnels Basic training course
– 23 Pre-Built Sales Funnels that you can import directly into your Clickfunnels account.
– How To Rank Youtube Video Fast – Mini Course
– Access to a 100 Day Social Media/Affiliate Marketing Bootcamp
– Unlimited email support so I can help you with your sales funnel that you build with Clickfunnels
– Training on how to set up custom domains for free inside your Clickfunnels Account
– My roadmap to email marketing course
– My funnel hacking playbook so you can mimic what other successful online entrepreneurs do with their sales funnels
– 1 Free Copy of Russell Brunson's book, DotCom Secrets
– Free Training Video On How To Increase Sales By 150% with ClickFunnels
Here's a quick video tour of my Clickfunnels Bonus Area:
Are you wondering how ClickFunnels stacks up against another direct response marketing tool? I've done a comprehensive review on ClickFunnels vs. LeadPages.
Click here and I'll help you decide whether ClickFunnels or LeadPages should be your funnel hacking tool of choice.