Irresistible Lead Magnets and Landing Pages
Here's an example of one of my highest performing lead magnets. "195 Radical, Free Tools For Entrepreneurs & Marketers". I rotate a link for it on my blog now and again that leads you to the opt-in page. Plus, I have a special treat for you at the end of this post so stay tuned.
Here's the lead magnet/landing page case study: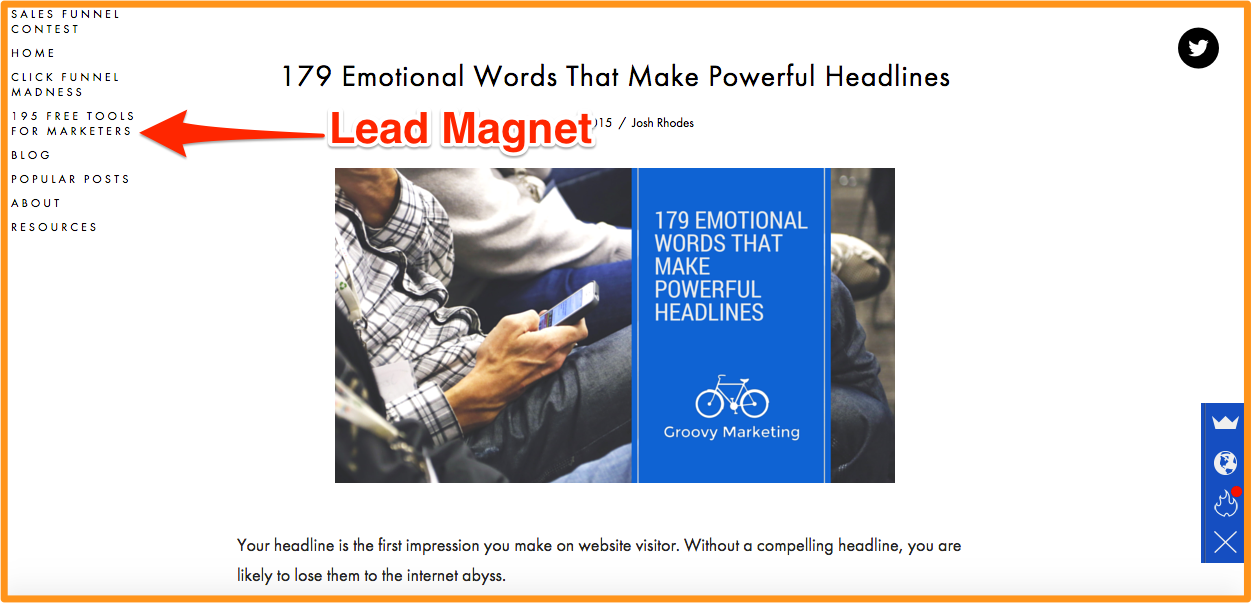 Here's the opt-in page I built in Click Funnels. It performs at a 63% opt-in conversion rate!! That's sick considering most industries are happy to convert a page like this at 20%…
Once a lead compensates me with their name and email address(I'll cover opt-in page science that lead to capturing data in the next step), I deliver to them solid gold happiness…a lead magnet that is over the top.
Here's a video training I pulled out of my course just for you. This is my best explanation of the landing page "art" of converting leads.
From here, I can let my automated funnel do the work.
Other types of lead magnets include:
– Webinar Funnels (live and automated)
– Coupons, Discounts
– Free Trials
– Surveys and Quizzes
– Free Reports
– Free Videos
– Etc…
So, you're not limited to just one thing. Depending on the niche you are in, different lead magnets will create a better conversion response than others.
For example, if you are selling software then a free trial is likely going to outperform more than a free report.
I recommend you test, test, test. A true marketer runs A/B split tests(which you can do easily with Click Funnels) and lets the market results determine future actions.
The most dangerous thing you can do is make marketing decisions on a "hunch".
In summary, a lead magnet is:
Something your prospect wants.
Something that is consumable or immediately usable.
Something your prospect is willing to exchange their contact information for.
Something you can test against other variations or lead magnets.
Remember, when everyone is zigging you should try zagging.
At the end of the day, it comes down to conversion rates and profitability. Something is better than nothing, so you'll want to build your funnel on solid ground before you go through the hassle of burning cash on a test that you think "may" work when you don't personally have the experience.
Maybe you do? That's great. There are other things that we can help you with as well like driving traffic and conversions.
Stay Groovy,
Josh Rhodes
P.S. If you haven't started a free Click Funnels account yet, go here now and do it. This is the ONLY software tool that I use when it comes to building air tight sales converting funnels. PLUS, if you use my link(I'm an affiliate of Click Funnel and get commission at no extra cost to you) I'll give you a bundle of bonuses to unlock any roadblocks you may have. These include my Traffic Madness Course and my Email Marketing Roadmap(valued at over $1075). PLUS, you get two of my highest converting funnels directly from my Click Funnels account(Click Funnels is the only website builder that let's you take someone else's funnel with a sing click). Jump in now, you won't regret it. You can cancel at any time too…