Wizardry….marketing wizardry.
That's what it takes, right? To dominate in business? To make tons of money and find "Freedom"?
I use to think that.
Until I discovered that there wasn't a single version of Gandalf's hat to fit me.
Nope.
Normal guy here fighting all the hype the internet sells you. Plenty of that crap to go around.
And you know who eats it up?
Everyone…at some time or another.
"Get rich quick", "The easy way to do business", "I made $13,567 in my pajamas eating Lucky Charms".
Why do we want these schemes to be real? Because we have something that is special to us.
Something that means a lot.
A dream. An escape. A better place in time.
Greener grass to smoke…
By the way, this is me and my family. Cute.
They mean a lot to me. They are why I work smarter than I use to.
I want more for them. End of story. But, that's just me…
Who/What do you care about? What makes you wish that you could be a gray marketing wizard(or even white if you're a LOTR nerd…)?
I don't know much. But…
Here's what I know.
There's no magic wand when it comes to marketing or building a business.
There's a framework needed. It's more like architecture than finding a silver bullet.
That doesn't mean you have to wait forever for construction to be done on it though to see results.
So, that's where people get tripped up. They get discouraged when the street drugs that internet bozos sell them don't deliver a life full of ecstasy.
Street drugs. Lots of them out there in advertising land that make you feel like that freaky caterpillar in Alice In Wonderland.
Nah, you need a system. Think like the old board game, Mousetrap…
Each part of that multi-colored wonder board works together for a common purpose.
In marketing, things should be systematic. Measured. Optimized. Measured again. Optimized again.
You feel me?
Thing is, most of our empire building attempts usually end up looking like this…
Messy.
You been there? Buncha pieces layin' around and you don't know which to pick up first…
That's ok. It ain't over yet.
This is what you want, right?
Big. Awesome. Functional.
Predictable.
Something that delivers with a bang while you sit back and watch it twirl.
That's what a sales funnel does. It's the mousetrap that delivers the win for you and your business even when you aren't looking.
A sales funnel, that works, allows you to stop looking for magic wands and silver bullets.
Build a sales funnel. Start now.
Don't know how? Confused on where to start? Let me show you a tool that I use every day that cuts out the fog of confusion.
Click Funnels. You should, at the very least, start a free trial of Click Funnels at this link now.
I use Click Funnels for ALL of my marketing sequences and sales initiatives.
If you have an online or offline business, Click Funnels can deliver more leads and more customers to your business…Bottom line.
Plus, you can build ANY KIND of funnel your particular business model needs.
Different Kinds of Sales Funnels
No matter what kind of business you run, there's a funnel to be built.
Consulting Business/High Ticket Coaching
Webinar Funnel
Product Launch Funnel
Software Funnel
Service Based Sales Funnel
Optin Funnel
Membership Funnel
The list goes on.
Here are three helpful diagrams to give you an idea of what funnels should look like from an anatomy level: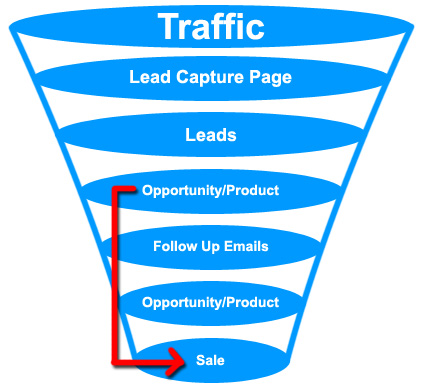 Do you pay attention to your sales funnel? Can you see it or is it more like a unicorn that you keep hearing about, but can't ever get a glimpse of?
Please share your comments below!