What's a sales funnel anyway?
The simplest way to explain what a sales funnel is – is to think about different steps that your audience needs to take to lead to any type of conversion.
This conversion could be a sale but you can choose to use a newsletter, webinar, etc.
When done properly, sales funnels can take you from floundering to flying high in your business.
In other words, an effective sales funnel can help you fund the lifestyle of your dreams.
But how do you even start to benefit from the life-changing results sales funnels can bring?
For the most part, you'll need three things:
1. The right tools – I use ClickFunnels every time to build all of my businesses that generate an annual seven-figure income. For one of the most complete reviews (and the best deal) on ClickFunnels, check out my blog "Clickfunnels Pricing Review: How To Get The Best Deal On Clickfunnels."
2. Sales funnels templates – When it comes to using tried-and-test sales funnels for different aspects of your business, there's no need to reinvent the wheel. Stay tuned as we go through some of our most popular sales funnel templates and how you can grab them all (for free).
3. Qualified leads – After you've chosen the best sales funnel builder and you've got your templates on lockdown, it's time to fill your sales funnel with the best leads that have a high probability of conversion. Click here for "Seven Smart Strategies To Fill Your Sales Funnels With Qualified Leads."
Sales Funnel Templates with Clickfunnels
To give you the inside scoop and shortcut to building sales funnels, I've got 23 free sales funnels templates for you.
You can plug-and-play these funnels into ClickFunnels or customize them to your heart's content.
To get your hands on all 23 sales funnel templates, you just need to sign up for a 14-day free trial of ClickFunnels using this link.
This means you get your 23 free sales funnel templates (plus additional bonuses) at no extra charge to you (and I get paid a commission).
Start Your FREE 14 Day Trial of Clickfunnels Today!
OK, so here's a sneak peak at some of the free sales funnel templates you'll get when you sign up for a free trial of ClickFunnels using my affiliate link.
Perfect Webinar Sales Funnel Template
Webinars continue to gain popularity because engagement by video can add a personal touchpoint with your audience.
Webinars are effective at relationship-building because they give a one-on-one touch to your marketing.
Whether you choose to use your webinars to introduce your business or generate interest about a new product or service, they're a great way to form a connection with your audience.
My perfect webinar sales funnel template follows ClickFunnels' founder, Russell
Brunson's perfect webinar template. This means this sales funnel template has been inspired by one of the leaders in sales funnel building and optimization.
Get your Perfect Webinar Sales Funnel Template here.
Real Stuff Clickfunnels Template
Sales funnels aren't only reserved for those who sell digital products and services, like coaching.
If your business involves selling physical products, you can still benefit from the power of sales funnels.
When selling physical products, your aim should be to create the best customer experience.
My Real Stuff Sales Funnel template is one of the most effective and rigorously tested sales funnels you can get.
Using this sales funnel will help your customers to navigate their way to a sale easier. It will also take away any barriers to your customers getting their hands on what you're selling.
This sales funnel template helps you to design a customer journey that will help to boost your conversion rates.
Get your Real Stuff Sales Funnel Template here.
Product Launch Sales Funnel Template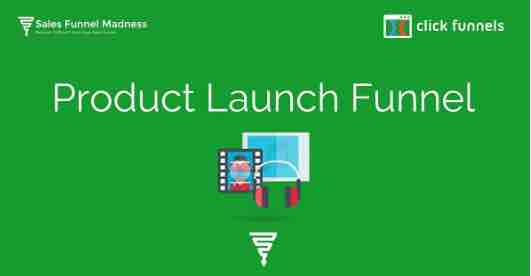 Product launch sales funnels are a proven way to automate emails to get your audience ready for your product launch.
Your product launch sales funnel is crucial. It can either excite your audience about your new product or service or turn them off completely.
It's your job to convince your audience about the benefits of what you're selling and how it will make some aspect of their lives better.
My Product Launch Sales Funnel Template is for you if you're planning to launch a product online. Hundreds of marketers use this template for million dollar-plus launches every single year.
Get the shortcut to all the hard work you need to do during a product launch by using this template to educate and excite your audience about your new products and services.
Get your hands on my free Product Launch Sales Funnel Template for a more successful product launch.
Network Marketing Bridge Sales Funnel Template
It can be hard to generate leads for network marketing.
What happens after you've gone through all of your family and friends with no success?
That's where my network marketing bridge sales funnel template comes in.
This sales funnel template helps you to cast your net wider to reach a bigger audience of people who may be interested in your service.
Using my free network marketing bridge sales funnel template helps you to reach people on a more human level.
If someone is interested, they'll move through the funnel. If they're not, then they simply move on.
You'll no longer have the pressure of relying on just making sales pitches in-person.
My free network marketing bridge sales funnel template can be your trusted side-kick in getting warm leads on auto-pilot.
Grab your free Network Marketing Bridge Sales Funnel Template here.
Fish Bowl Sales Funnel Template
The fish bowl sales funnel template is just like the fish bowl you see at check outs, reception desks, etc.
People are encouraged to drop their business cards or contact details in the fishbowls and one or two are chosen for a prize.
This highly intuitive sales funnel template is a great way to build your email list with giveaways.
You can also make exclusive one-time sale offers to people who have entered.
If you're looking to monetize your sales funnel quickly, then my fish bowl sales funnel template is for you.
Click here for your free Fish Bowl Sales Funnel Template.
Best Selling Book Clickfunnels Template
This sales funnel template puts the power back in authors' hands as it helps them to sell their books online without needing a distributor.
Are you an author looking to take full control of your book sales?
If yes, my free best selling book sales funnel template is for you.
This sales funnel gives you an automated way for more people to find out about your book (and buy it).
However, this sales funnel doesn't only have to be transactional.
You can also use the best selling book sales funnel template to build relationships with your potential buyers and those who have already bought your book.
Get your free Best Selling Book Sales Funnel Template to find out how you can build a stronger connection with your audience as well as sell more books.
Clickfunnels Templates Conclusion
The above examples are just a small snippet of sales funnel templates you'll get when you sign up for a 14-day free trial of ClickFunnels.
Here's a full list of all 23 sale funnel templates you'll have at your fingertips to super-charge your business:
Physical Product Sales Funnel
Funnel Building Membership Funnel
Faux membership page (share funnel)
Affiliate Marketing Funnel
Russell Brunson Book Funnel
Invisible Funnel (Share Funnel)
High Ticket Coaching (Share Funnel)
Accelerate Full Sales Funnel
Now, as if giving away 23 of the top-performing sale funnel templates isn't enough, I've got some additional bonuses to drastically reduce your ClickFunnels learning curve and help you to get results even faster.
Here are the additional bonuses you'll get when you try ClickFunnels for free using this link:
My ENTIRE Sales Funnel Blueprint Course, Vault and Library of Internet Marketing Success Training.
Facebook Marketing Madness Training Course – How To Launch High Converting Ads In Any Niche.
My Clickfunnels Basic training course.
How To Rank YouTube Video Fast – Mini Course.
Access to a 100 Day Social Media/Affiliate Marketing Bootcamp.
Unlimited email support so I can help you with your sales funnel that you build with Clickfunnels.
Training on how to set up custom domains for free inside your Clickfunnels Account.
My roadmap to email marketing course.
My funnel hacking playbook, so you can mimic what other successful online entrepreneurs do with their sales funnels.
1 Free Copy of Russell Brunson's book, DotCom Secrets.
Free Training Video On How To Increase Sales By 150% with ClickFunnels.
OK, I'm sold!
How do I get my hands on the free 23 sale funnel templates and the bumper pack of bonuses listed above?
It's easy!
All you have to do is:
Once you've started your free trial with my links here, email me at josh at groovymarketing dot biz and I'll grant you membership access!
Sign up here to access your free 23 sales funnel templates plus your additional free bonuses today!