In this Clickfunnels vs Instapage review, you are going to see how both are great tools to help you take your business to the next level.
Depending on the needs of your business, one may be a better fit for you than the other.
I'll break down all of the information you need to make an informed decision on which of these tools is best for you.
ClickFunnels Summed Up
ClickFunnels is an all-in-one platform that helps you build a successful sales funnel from beginning to end.
You can build your landing and squeeze page with the easy drag-and-drop interface or start with a template and customize it from there.
You can also send targeted emails, run A/B tests on new campaigns and monitor everything from the analytics dashboard.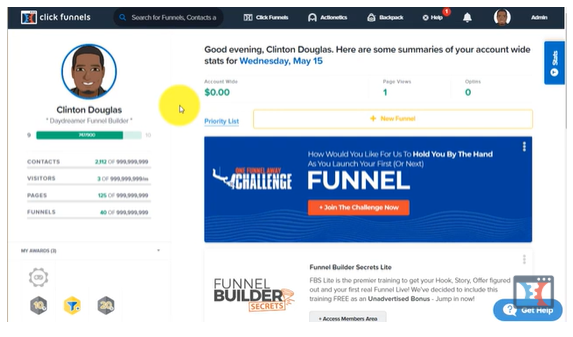 You can also host live events and webinars, sell digital or physical products and handle payments – all through ClickFunnels and their integrated apps.
ClickFunnels provides all you need to start and grow a successful online business, but the icing on the cake is that, if you start a 14 day free trial with my affiliate link, you'll get a bumper pack of bonuses that will help to skyrocket your business.
Here are some of the practical bonuses you get when taking ClickFunnels for a 14-day free test drive using my affiliate link.
Facebook Marketing Madness Training Course – How To Launch High-Converting Ads In Any Niche.
My Clickfunnels Basic training course.
23 Pre-Built Sales Funnels that you can import directly into your Clickfunnels account.
How To Rank YouTube Video Fast – Mini Course.
Access to a 100-Day Social Media/Affiliate Marketing Bootcamp.
Unlimited email support, so I can help you with the sales funnel you build using Clickfunnels.
Training on how to set up custom domains for free inside your Clickfunnels Account.

My roadmap to email marketing course.
My funnel hacking playbook, so you can mimic what other successful online entrepreneurs do with their sales funnels.
1 Free Copy of Russell Brunson's book, DotCom Secrets.
Free Training Video On How To Increase Sales By 150% with ClickFunnels.
You can claim your free bonuses in two simple steps:
Firstly, clear your cookies and cache from your web browser before clicking on my affiliate links in this post. Then, click the affiliate link to start your 14-day trial here.
Then, email me at josh at groovymarketing dot biz and request your bonuses. (I type out my email address like that, so spammy bots can't scrape my email address and spam my inbox…but I do answer this email address personally.)
DISCLAIMER: I am a proud affiliate of Clickfunnels and, when you use my affiliate link, I get paid a commission at no extra cost to you. As a "thank you," I provide a TON of bonuses that I have listed above and display in the graphic below. All you have to do is email me personally to get access after you sign up for Clickfunnels using my link. My email is josh at groovymarketing dot biz.
Instapage Summed Up
Instapage does one thing and it does it very well.
It helps you to build great landing pages to optimize conversion.
There are hundreds of customizable templates for you to choose from, so you don't have to start from scratch.
Instapage doesn't offer the wide range of features that ClickFunnels does, but it can integrate with many popular apps, like MailChimp, Drip, Facebook and Google Ads.
ClickFunnels features
Start with a framework and template provided by ClickFunnels and then add as many or as few steps to your sales funnel as you like.
Rearrange the steps with the easy-to-use drag-and-drop interface.
Remember, you also get an extra 23 pre-built sales funnels when you sign up for a free 14-day trial with ClickFunnels.
Short or long forms for creating mailer lists
Use email and messenger services built into ClickFunnels to reach your target audience.
Put short or long forms on your website to get contact information like emails, phone numbers, names and more.
Use this information to build email or text message lists all on the ClickFunnels platform.
Add steps to your sales funnel
Use tripwires, marketing videos or sales letters to promote your products.
Tripwires are 1-click upsells added into the checkout process.
When a customer is making a purchase, you can use a tripwire to recommend products that are typically bought with the item that the customer is purchasing.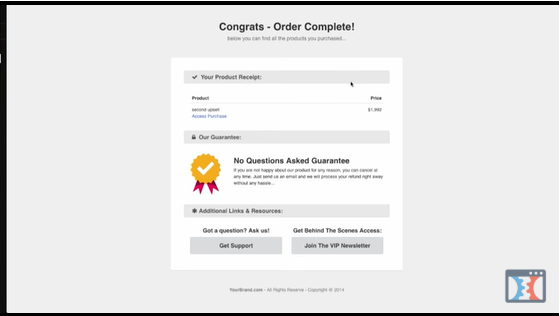 Sales letters or videos work similarly, but offer the customer more information about why the purchase may be good for them.
Create a sales funnel specifically to introduce a new product to your customers.
You can use a launch funnel to build interest in a new release, so there will be buyers when it launches.
Host live or pre-recorded webinars
You can generate interest in a webinar, register interested customers for the webinar and host and stream it all on ClickFunnels.
ClickFunnels will help you create more conversions and interest in your event, so you can receive the best ROI.
Create a login for members to access exclusive content.
Membership sign-up and membership area hosting are both done on the ClickFunnels platform.
Click here to read my "Clickfunnels Membership Sites Review: What You Need To Know If You Want A Monthly Subscription Business That Rocks Cash" blog.
Create order forms from templates to ensure your checkout process is easy and understandable.
This will help avoid abandoned carts and lost sales.
Hire, manage and pay affiliates all through the affiliate center.
Affiliates can log in to the affiliate area to access advertising materials, information about commissions, payment schedules and more.
Are you wondering how to get started with affiliate marketing? Are you feeling stuck at your current level?
If you answered yes, The All New Clickfunnels Affiliate Program Bootcamp is for you.
This free video interview series of super-affiliates will give you the inside scoop on becoming an affiliate marketing expert.
Click here for free access to the Clickfunnels Affiliate Program Bootcamp.
Start with a template created by ClickFunnels and then customize the page with the drag-and-drop interface.
ClickFunnels will also let you do some coding with CSS and HTML to further customize the look of your landing page.
Create automated emails to send to your audience throughout the sales process.
Welcome new members or new subscribers, remind customers of abandoned carts and alert them to sales for products that they may be interested in.
Use follow-up funnels to target customers based on their behavior on your website.
Remind them of great products that they have looked at before, encourage them to upgrade to new or better products and remind them of items left in their cart.
See which version of an ad campaign, landing page or email your audience responds best to.
Run two versions of the item that you're testing to see which gets the most attention, clicks, sales or whatever metric you're hoping to see a high number for.
Track everything from your analytics dashboard
ClickFunnels keeps track of everything that happens on your website.
You can see which pages or campaigns are getting the most attention and which ones need work.
Monitor the overall success of your business easily from this dashboard.
Instapage features
Build landing pages from templates
Choose from hundreds of pre-made, optimized templates to get your landing page started.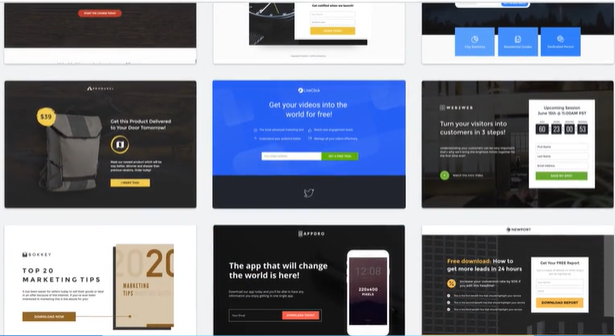 Customize it as much or as little as you want, right down to the code.
Pages can be converted to mobile-friendly versions at the click of a button.
Use Instablocks or widgets to easily add sections or features to your landing page as you see fit.
Create landing pages that load three times faster with the Thor Render Engine for Instapage.
This helps to improve conversions and SEO rankings while providing a great user experience.
Build and customize forms
Create forms that quickly and easily collect information from your page visitors.
Obtain contact information, like emails or phone numbers, for follow-up campaigns.
You can create these forms easily with pre-made Instapage forms.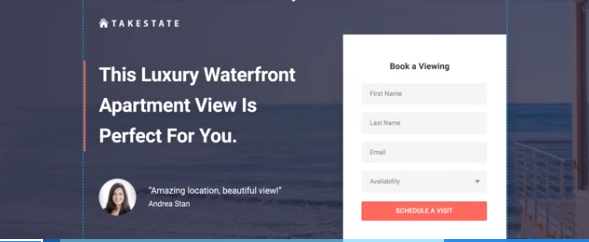 Instapge Lead notifications
This feature notifies you every time new leads are generated.
Confirm or thank members when they complete any forms.
Deliver digital products for opted-in page visitors to download quickly and easily.
Create an opt-in pop-up form for new page visitors, so you can easily obtain new leads.
Run an A/B test to see which version of your landing page performs better.
Try out different layouts, different copy, different forms and more.
Use heatmaps to see which areas of the page your audience lingers on or clicks on most often.
Use this information to inform future changes to your website.
ClickFunnels pricing
ClickFunnels offers two packages: Basic and Etison Suite.
The basic package costs $97/month and includes:
20 funnels.

100 pages.

20,000 visitors.

Unlimited contacts.

3 custom domains.

A/B split tests.

Email integration.

Opt-in funnels.

ClickPops.

ClickOptin.

All sales funnels.

Membership funnels.

Unlimited members.

Webinar and auto webinar funnels.

Hangout funnels.

Order, upsell, and downsale pages.

Share your funnels.
The Etson Suite package is $297/month and offers:
Everything that the basic package offers.

Unlimited funnels.

Unlimited pages.

Unlimited visitors.

Unlimited contacts.

Unlimited domains.

And so much more.
Click here for a complete ClickFunnels pricing review where I get into the nitty-gritty of every pricing option as well as how you can bag yourself the best deal.
Instapage pricing
Instapage offers two packages: Core and Enterprise.
The Core package is $99/month and includes:
Landing page builder.

Advertising and marketing integration.

Instablocks.

A/B testing.

Heatmaps.

Conversion analytics.

Multi-step forms.

Dynamic text replacement.

Branded lead notifications.

Automatic SSL certification.
The cost of the Enterprise package is different for each user, depending on their needs.
It includes:
Everything from the core package.

Editable global blocks.

AMP page and experiences.

1:1 ad-to-page personalization.

Real-time visual collaboration.

Ad spend by variation data.

Direct lead-bypass.

Guaranteed uptime-enterprise SLA.

Single sign-on.

Professional page launch services.

Page migration services.

Dedicated CSM.

Custom fonts.

Custom feature implementation.
ClickFunnels vs. Instapage: pros and cons
ClickFunnels Pros
A more comprehensive all-in-one sales funnel building platform.

User-friendly drag-and-drop landing page and funnel builders.

Customizable pages and sales funnels.

More cost-effective.
ClickFunnels Cons
Less control over coding customization than Instapage.

Landing page builder doesn't offer much flexibility in design.
Instapage Pros
Designed specifically to build great landing pages.

More templates.

Higher level of customization.

Large number of fonts and stock images to choose from.
Instapage Cons
Less cost-effective.

Fewer features on Instapage platform.

Integration required with several third-party apps and tools for a complete solution.

No sales funnel builder.
Final verdict: ClickFunnels vs. Instapage
If you're only looking for something strictly to help you improve your landing pages, Instapage may be a good option for you.
But ClickFunnels is a cheaper option that offers a landing page builder and so much more.
You can do everything with ClickFunnels because it's as close to a complete online business toolkit as you can get.
It's a one-stop-shop that can help you build your online business from the ground up in no time at all.
Because of its price and extensive features, ClickFunnels is the better option of the two.
You also get value-packed free training with ClickFunnels.
This training not only gives you information about how to build profitable sales funnels, but how to grow a wildly successful online business.
To learn how to set up your sales funnel in seven minutes, sign up for your free ClickFunnels training webinar.