Hey Guys! Josh here and today I want to tell you about the brand new, incredible Clickfunnels Platinum package. Recently Clickfunnels came out with a HUGE announcement about this amazing offer. Now, as an original Clickfunnels blogger, and as one to their top affiliate dream car winners, I wanted to update you on what this change means for you and how you can extract the most out of it to grow your business. If you're looking into Clickfunnels, this post is all about how Clickfunnels Platinum can help you become a Clickfunnels expert and the value it holds for you as a business owner.
*UPDATE: At no extra charge to you, I get paid a commission if you sign up for Clickfunnels Platinum or any of their products when you use my affiliate link. You can learn all about my Clickfunnels Bonuses at this link. I offer Clickfunnels Bonuses as a "Thank You" to all of my affiliates. Simply email me directly for access after you sign up at josh at groovymarketing dot biz.
What is Clickfunnels Platinum?
Let's just get right down to it. What is Clickfunnels Platinum? In Russell Brunson's announcement video, he posed the question, "Who are the people that have the most success with Clickfunnels?"
The people who have the most success with Clickfunnels are the one's who are not afraid to get their hands dirty and ask questions. The ones who truly want to understand sales funnels and what it can do for their business. The ones who want to get the most they can out of this fantastic software. People that are asking:
What does a funnel look like?
What do funnels look like for my own business?
What copy do I use in the funnel?
And basically, Russell started wondering, "What if we had all these resources to answer their questions and GAVE IT TO THEM FOR FREE?"
And that's how Clickfunnels Platinum was born.
Things that most people had to pay thousands and thousands of dollars for, Clickfunnels has created an offer that helps eager people, like you, who are looking to grow their business get a jump start. Clickfunnels Platinum not only gives you all the tools you need to build a high converting sales funnel, it also provides every possible training you could need for FREE! Every question you've ever had on revenue growing activities ANSWERED.
Clickfunnels Platinum Pricing
Something I always want to be upfront about is pricing. When you start your 14 day free trial using my affiliate link (at no extra cost to you) you'll have the opportunity to do a $97/month package—which is totally good for a lot of people— but the Clickfunnels Platinum bundle is $297/month.
With the $97/month starter account, you will be able to create up to twenty funnels, over 100 landing pages and host up to 20,000 visitors per month. Again, that's good for some people. It works.
BUT when you consider all that you get with the $297/month Clickfunnels Platinum package, and all of it's value, it's easy to see that this is the better offer by a landslide. Why? Because it equips you with everything you need to know in order to grow your business with Clickfunnels.
ClickFunnels Platinum is basically a massive rebrand of the existing ClickFunnels Etison suite plan, which was also priced at $297 per month. So if you are an existing Etison Suite member, you will automatically be put on the ClickFunnels Platinum, and Clickfunnels Platinum will continue to offer these amazing features in addition to some new ones:
• Unlimited funnels.
• Unlimited landing pages.
• Unlimited landing page traffic.
• Email integration.
• A/B split tests.
Multiple Users.

Connect 9 Different domains

Connect 9 Different Payment Gateways

In addition to all of these amazing features, the rebrand is providing even more value with new features exclusive for Clickfunnels Platinum members only.
Exciting New Features with Clickfunnels Platinum
Here is the moment you've all been waiting for. These are the new features with Clickfunnels Platinum that are going to equip you to succeed with Clickfunnels software.
These exciting new features are:
• Daily Virtual Hackathons
• The Funnel Hacker Forum
• (And my favorite) FunnelFlix
Daily Virtual Hackathons
When it comes to educating and training customers, Clickfunnels is hands down the best software company.
Daily Virtual Hackathons were once reserved solely for those who were a part of Russell's high- end Two Comma Club training program. Now he's giving access to everyone with Clickfunnels Platinum so that you can gain mastery in building funnels to grow your business.
Basically a Daily Virtual Hackathon gives you the chance to learn how to build specific funnels. It's a daily webinar where you come to get hands-on training about all different types of sales funnels. You'll also pick up tips and tricks to create and optimize your own funnels for your business.
Want to learn how to generate leads with your funnel? What about successfully selling high ticket products online? Do you know how to build a webinar funnel? Each Virtual Hackathon will focus on a single type of funnel, out of the 11 core funnels, so that you can master them all.
If a certain funnel interests you on any given day, you can jump into the session to have a Clickfunnels coach walk you through how to build the funnel.
According to Smart Business Trends, Virtual Hackathons will start on Oct 12th, 2019.
The Funnel Hacker Forum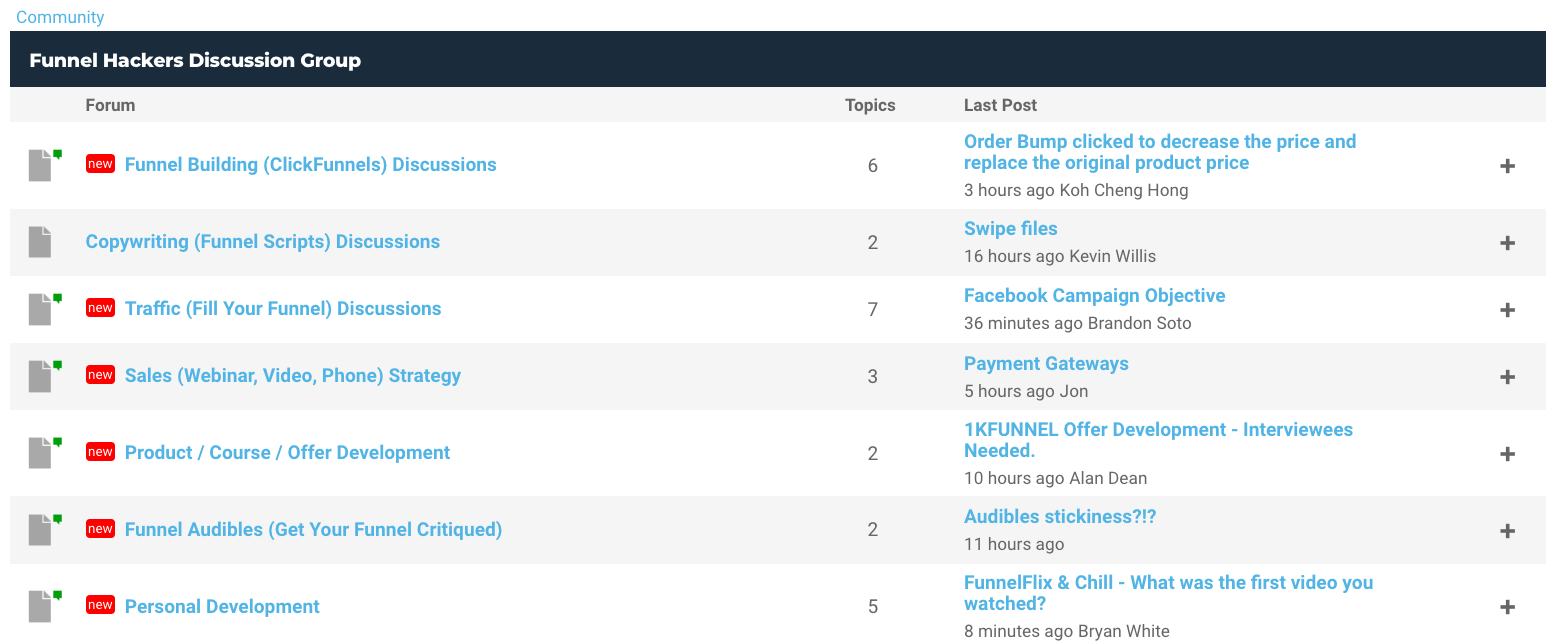 This is something else Clickfunnels is great about—creating community to help you learn. The Funnel Hacker Forum is another great opportunity to become an expert at Clickfunnels. Russell Brunson has created an official community of Clickfunnels paying members only. The Funnel Hacker Forum gives you the rare opportunity to see what other people are doing within your industry, or an industry you want to be in, and how they're achieving profit with their funnels. Ultimately, you can collaborate with these other "funnel hackers" which is HUGE because it allows you to borrow each others success. With Clickfunnels Platinum, there's no reason for you to spend time reinventing the wheel when you can simply just ask for help from this unbelievable community.
Clickfunnels Platinum and FunnelFlix
Here is my FAVORITE thing about Clickfunnels Platinum, which is why I saved it for last. Let me see if I can even begin to describe the value that this is.
FunnelFlix is like Netflix for entrepreneurs, digital marketers, and online business owners. Anything you've ever wanted to know about online business, I guarantee you, the answer is here.
With FunnelFlix, you have access to all these amazing licensed next level courses from Two Comma Club, Three Comma Club, and authoritative business gurus like Jay Abraham and Tony Robison!
On any given day, you can be faced with a situation and rest assured that FunnelFlix has your answer.
How do you get motivated to actually succeed? Check out the Tony Robinson course.
What if you have the motivation, but your sales funnels aren't optimized? Check out a funnel building course.
What if you have a funnel but it's just not converting? Watch the FunnelFlix course that teaches you how to sell, how to speak, and how to make compelling videos!
What if you have funnels that work but you don't know how to drive traffic to them? Take the traffic course!
Any question you have, Funnelflix has the answer.
Funnelflix Courses List
According to Funnel Mindset, if you were to go buy all this content on your own, you'd have to pay at least $25,000! With Clickfunnels Platinum, you're making an investment into your business that is worthwhile.
Here's a preview of the courses you get inside of Funnel Flix (as of October 2019):
• Tony Robbins Private Collection
• One Funnel Away Challenge Content
• Funnel U
• 10X Secrets
• Traffic Secrets
• Jay Abraham: The Anthology
• The Warriors Way Doctrine
• 30 Day Challenge Content
• ALL Affiliate Bootcamp Content
• Funnel Builder Secrets
• Funnel Hackathon
• AdSkills
• Agora Copywriting
• Agora Media Buying
• Outsource Force
• Product Secrets
• Money Mindset
• High Ticket Secrets
• OfferMind
Plus much more content to come like YouTube Traffic Secrets or the upcoming Course Secrets.
The amount of effort that has been put into the creation these videos is wild. Having the FunnelFlix content as part of your business will put miles and miles in front of your competition.
Is Clickfunnels Platinum Worth It?
Absolutely, 100%. YES! Having access to the learning alone is worth buying this software! Not to mention, if you sign up for Clickfunnels Platinum using my affiliate link, at no extra cost to you, I offer a TON of bonuses. They're amazing bonuses—all you have to do to access those bonuses is email me at [email protected]. I personally check the email and then I'll get the bonuses to you. Clickfunnels has been the number one investment in my entire company—actually in all three businesses that I own. There's not a day that myself and my team do not use Clickfunnels. There's SO MANY THINGS you can do with Clickfunnels to grow your business. And with Clickfunnels Platinum, you'll have access to a community and trainings that can help you do it all! Here are just a few of the amazing things you can do with Clickfunnels:
• Launch funnels
Create funnels specifically for new products or products that are launching soon.
• Run webinars
Run webinars live or create pre-recorded webinars that users can purchase and access at any time.
• Easily customize funnels and forms
Incorporate and orchestrate multiple steps throughout the sales funnel process.
You can decide the order of these steps and make the process as simple or complex as you like.
• Create long forms for leads
You can also create longer forms to generate leads, so you can gather specific information about your users.
Use this information to inform targeted marketing campaigns.
• Tripwire or unboxing funnels
You can use this to encourage users to buy more products. During checkout, they will see a pop-up that tells them about the product. The pop-up will have an easy, 1-click process to add the new product to their cart if they're interested.
Conclusion
Like I said, Clickfunnels has been the number one investment in all of my businesses and with the knowledge and training that comes with Clickfunnels Platinum, why would you not take this opportunity to grow your business?
Hope this was helpful. Remember to sign up for Clickfunnels Platinum using my affiliate link and email me at [email protected] for all your bonuses.