Welcome to my post on Clickfunnels vs Shopify. We have much to cover, so let's dive in.
When starting an online business, it's easy for shiny object syndrome to creep in.
You think you absolutely must have every single app, software and tool.
The truth is, if you want to start an online business (or you're already running one), there are two pieces of software that you probably come across time and time again.
One is ClickFunnels and the other is Shopify.
As much time as possible should be spent understanding these two platforms.
You'll need to find out how they can help your online business and turn your ecommerce shop into the profit-making machine you've always dreamed of.
How do you choose between ClickFunnels and Shopify?
You've come to the right place.
We'll take a deep dive into both these tools in relation to:
Comparisons.

Features.

Pros and cons.
Before we get into it, let's cut to the chase.
Here's a brief rundown of ClickFunnels vs. Shopify.
ClickFunnels vs Shopify: Clickfunnels Sum Up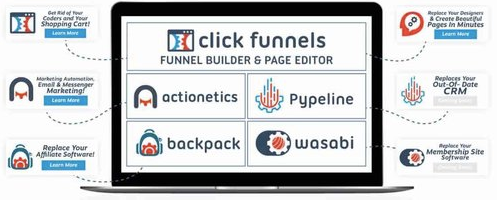 ClickFunnels is one of the most popular and powerful sales funnel builders around today.
Click here to see how ClickFunnels stacks up to another leading sales funnel platform – LeadPages.
The reason for its popularity is that it helps tons of business owners grow multi-million dollar businesses by creating a complete ecosystem that turns cold leads into buyers.
ClickFunnels software is a complete system to help you market your online business.
There are a wide range of integrations that allow you to customize and personalize ClickFunnels to suit your business needs.
It's powered on automation to nurture your prospects inside your sales funnels (without breaking a sweat).
If you sell subscription services, digital services or physical products, ClickFunnels has sales funnel templates to help you grow and supercharge your business.
With ClickFunnels, you can create an online store.
You also have the capability to build your customer base using email lists and automation with email marketing.
Basically, ClickFunnels is the only marketing software you'll ever need.
Clickfunnels vs Shopify: Shopify Sum Up
With Shopify, you get a web-based tool that helps you start and grow online stores.
It's different from ClickFunnels because it's mostly used for selling different products.
You have a choice of a range of themes to help you build and personalize your online store the way you want it, without needing the help of a professional designer.
Shopify provides you with the full works when setting up your online store.
Similar to ClickFunnels, Shopify is hosted so you don't have to bother about getting a seperate host provider.
So, if your aim is to build an online store with different products to sell, then consider Shopify.
Some of the functionality includes:
Inventory management system.

Different themes.

Payment integration.
If you get stuck on anything, there's also a Shopify developer community to help you to get out of any sticky situations.
ClickFunnels vs. Shopify: The features
ClickFunnels features
Whether you're a novice or an experienced marketer looking for a tool to build your entire marketing and sales funnel, think about ClickFunnels because they offer:
Ready to use sales funnels
You have access to sales funnels templates with the single focus of making the sale.
You can use these sales funnels for everything including:
eBooks.

Membership sites.

Subscription services.

Webinars and more.
All you have to do is add your own copy and images to customize your template.
Funnel Scripts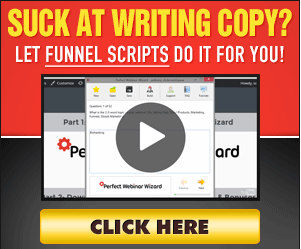 An important aspect of converting browsers into buyers is to write sticky and compelling copy.
But how do you do this if you aren't a copywriting genius or can't afford to spend mega bucks on a copywriter?
Don't worry about being an expert copywriter.
Funnel Scripts uses script writers to create flawless copy for your sales funnel and different areas of your business, including:
Read here for a full rundown on funnel scripts
Websites building tool
ClickFunnels gives you the freedom to build your sales funnel from scratch if you want.
If you choose not to use the sales funnel templates, you can add:
Checkout carts.

Payment integrations.

Opt in forms.
Affiliate marketing system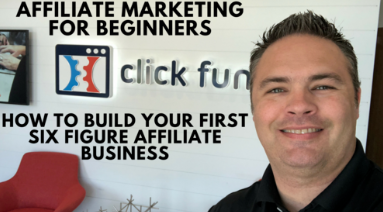 The great thing about ClickFunnels is that you can create your own affiliate programs for your services and products.
Just provide the link to people, so when they sell your products, they will receive a commission.
This is a surefire way of creating a personal team of salespeople to boost your business.
Payment Integrations
With integrations with Stripe, PayPal and other popular payment processors, you can integrate payments to your sales page and collect payments at one time.
CRM system
You should be trying to collect the most relevant information about your customers when running an online business.
With ClickFunnels, you have access to customer data, such as:
Social profiles.

Items they've bought.

Location.
You can also segment customers based on different things, like how much they spent.
Actionetics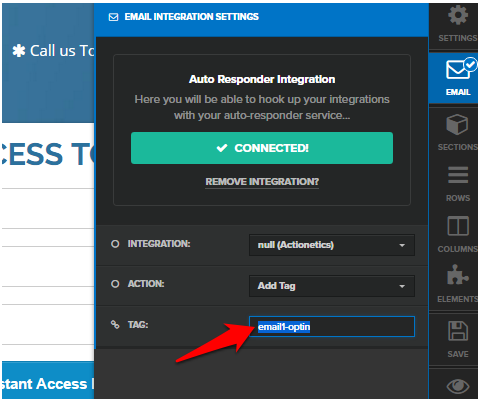 The ultimate aim of ClickFunnels is to fill your sales funnel with qualified leads and make that sale.
So, with actionetics, it helps you to:
Track and view your customer's journey.

Send targeted emails (depending on the actions your customers take in the funnel).

Allocate different actions based on triggers.
This is automation at its best.
It helps you merge your sales funnels into your email campaigns, so you have a marketing machine that runs on autopilot.
Choose the list you want your customer to be added to when they sign up to your sales funnel and this will trigger off the emails they receive.
Email marketing
Customize, personalize and brand your email campaign using ClickFunnels.
You can arrange emails into series and automate the entire process so, when people sign up, they get everything you offer as a matter of course.
Integrations galore
ClickFunnels gives you the ability to add unlimited third-party software and tools, including:
Payment Gateway Integration.

SMS Text Integration.

Email Integration and many more.
A/B split testing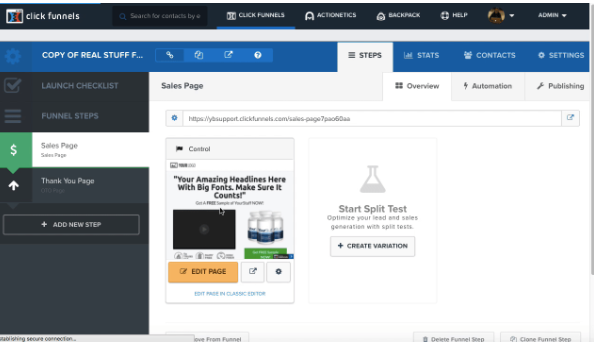 A catchphrase that should be applied to online businesses is "always test."
ClickFunnels gives you the ability to test your marketing campaigns to find out what works and what doesn't.
Shopify features
As many themes as you can handle
With Shopify, you get tons of templates and themes to use to build your ecommerce store.
Some themes are free and others are paid.
The templates are mobile responsive, which is really handy as more people shop on mobile devices.
You can customize your themes in Shopify just like you customize them in ClickFunnels with a drag and drop editor.
Payment Gateway options
Shopify supports hundreds of payment gateways, so you can choose the one that's most suited to your business.
Full reporting capacity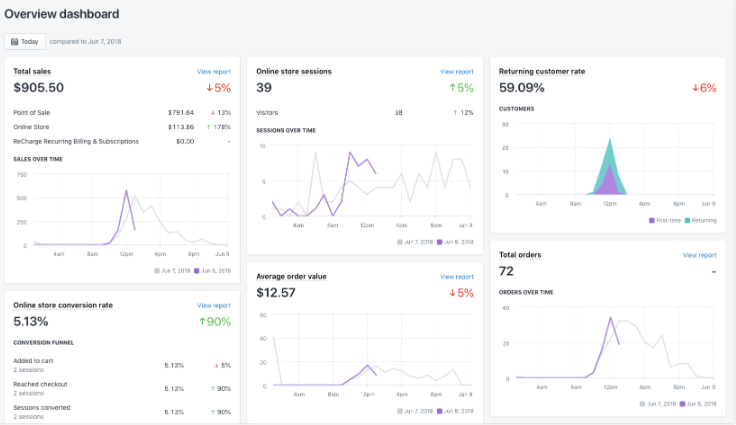 Shopify provides a full range of reporting tools, which include:
Financial reports.

Search data reports.

Abandoned cart reports.

Customer reports.
You can only get these reports if you sign up to the advanced Shopify plan.
Blogging platform
Blogging has been a popular way to increase traffic and exposure to sites.
Shopify comes with a built-in blogging platform, which helps you to start (and build) a blog so you can build a following.
Mobile app
You can manage your business with two of Shopify's main apps – Shopify Point of Sale and the Shopify main app.
With the Shopify main app, you can view and complete orders.
The Shopify Point of Sale lets you take credit card payments in person. It also sends receipts to customers and tracks your inventory.
Dropshipping
With Shopify, you can choose from different dropshippers since they offer dropshipping apps, so you can source and sell goods from different suppliers around the world.
Shopify partners with different delivery companies, like UPS and DHL, to provide lower shipping rates to your customers.
Their App Store
With Shopify, you can choose from free or paid apps to boost the functionality of your store.
Some of the apps and integrations help you to do things like create more responsive landing pages and build accounting reports.
Inventory management system
Track your current inventory with Shopify's inventory management system.
You can add new products, upload attractive images and include the number of items to the store.
The inventory management system will automatically keep track of how many items you sold, so you know when to order more.
Pricing – ClickFunnels versus Shopify
The cost of ClickFunnels
You'll find two standard plans on ClickFunnels.
The basic plan is $97 per month and the Etison suite costs $297 per month.
The lower priced plan gives you a good starting point with what you need. It remains one of the most popular plans.
With the Etison Suite, you get to unlock the whole host of Click Funnel features.
With the Etison Suite, you get everything included in the standard package as well as unlimited access to the in-built autoresponder and affiliate marketing.
For a complete guide to ClickFunnels pricing, check out my Clickfunnels Pricing Review 2019.
My comprehensive review shows you how to get the best deals on ClickFunnels and includes bonuses to help you grow your online business quickly.
You get a 14-day free trial with ClickFunnels.
The cost of Shopify

Just like ClickFunnels, you also get a 14-day free trial with Shopify.
You have a choice of different pricing plans, based on your business needs.
There's a basic plan of $29 per month, which includes:
Credit card processing.

Two staff accounts.

Blogging functionality.

Seo functionality.
The next plan is $79 per month, which includes every feature in the basic plan and more tools to grow your business, including:
Gift cards.

Professional reporting.

Five staff accounts.

Point of sale.
There's an advanced plan of $299 per month, which really boosts the functionality of Shopify and includes:
15 staff accounts.

Access to the advanced report builder.

Real-time carrier shipping information.
ClickFunnels versus Shopify: Pros and Cons
There are upsides and downsides to both of these platforms. So, here's a quick rundown of the best and areas of improvements for both.
ClickFunnels upsides:
Ability to sell corresponding products or services with one funnel if you use the upsell feature. This means you'll be able to make more profits from just one sales funnel.

Grow your business by using the affiliate marketing option.

Manage your customer's information better with the CRM tool.

A complete lead generation tool at your fingertips.

Beginners with no developer knowledge can start with ClickFunnels straight away.

Share your ClickFunnels with clients or other users.

Sell higher end products with ClickFunnels.
Click funnel cons:
Blogging platform needs improvement.

Limited reporting features.
Shopify upsides:
The blogging platform is SEO-friendly and can help to drive more traffic.

Sell a large variety of products on the same store.

Manage your store on-the-go with Android and iOS apps.

Sell your store or buy another one whenever you want.
The downsides of Shopify:
Advanced automation to track customers is lacking.

No advanced marketing functions for creating sales funnels and capturing leads.

You can't manage affiliates.

You can't build a members area.

Targeted for selling products and not for services.

You have to find out yourself how to get traffic and keep customers, which is what ClickFunnels does really well.

Beginners who don't know much about marketing can find it difficult to set up a profitable store.

CTAs are non-persuasive, so potential buyers can get distracted.
Final verdict of ClickFunnels versus Shopify
Shopify allows you to list lots lots of products.
You can display hundreds of products and therefore it can lead to 'option overload.'
With ClickFunnels, you reap the benefits of niching down.
Have a look at this blog to explain why it's better to niche down and how you can take advantage of it.
If you're looking for an all-in-one business and marketing tool to convert cold leads into buyers, ClickFunnels is the tool for you.
If you feel like your business will be better suited to ClickFunnels, sign up for a 14-day free trial using my affiliate link by clicking here (this won't affect the price you pay).
You'll also get my bumper bonuses, which includes 23 pre-built Sales Funnels that can be imported directly into your ClickFunnels account.