A squeeze page for your website should do exactly what it says on the tin – squeeze an email address (or any other information) from your website's visitor.
It can get a bit confusing when deciding whether you should use a landing page, sales page or a squeeze page.
Believe it or not, they're not the same.
It's important to know the difference.
Because, in online marketing, even the tiniest margin of error could mean you lose a sale.
• So what exactly is a squeeze page?
It's one page that's designed to get leads from prospects.
It just has one goal and one aim and it zeroes-in on getting this information.
A squeeze page is designed to get people to sign up to what you're offering to enter their details into a profitable sales funnel.
• What's the difference between a squeeze page and a landing page?
Your lead generation efforts depend on knowing the difference between these two.
How come?
Because there's a major difference between a landing page and a squeeze page.
• Squeeze page
Makes only one offer in exchange for a name and email address or email address alone.
It's straightforward, uncomplicated and it only has one aim, which is to collect data.
There are no links that divert the reader's attention to anything else.
The anatomy of a high-converting squeeze page should include:
• Minimalism.
• Straight to the point copy.
• A call-to-action button.
Here's an example of a squeeze page that nails the three points above.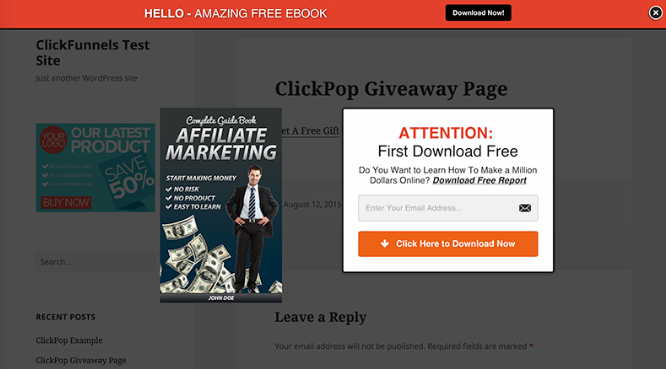 • Landing page
The landing page can be another step in the sales funnel after a prospect has given their details on a squeeze page.
This leads the prospect further down into the sales funnel.
A landing page will break down an offer into more detail.
It's more focused on an offer and not just a product.
So, in short, this is the difference between a squeeze page and a landing page.
Squeeze page:
• Zeroes-in on one conversion, which is the email address.
• Brief format.
• Doesn't have to be a standalone web page.
• A small number of form fields.
Landing page:
• Different conversion goals.
• Can be long or short.
• Numerous form fields.
• Normally used as a web page.
Now that we know the difference between a landing page and a squeeze page and how they both fit into the different parts of your sales funnel, here's the anatomy of a high-converting squeeze page (including squeeze page examples).
There's also a step-by-step guide to creating the perfect squeeze page, every time.
• Come up with a magnetic headline
Can't stress enough how important this is.
A squeeze page headline is one of the most important things because that's what will either turn your visitor's head towards your squeeze page or simply turn them off.
It's not difficult to write a squeeze page headline. You just have to ensure that the headline is really clear and simple. The clarity has to come with the outcome – basically, what is in it for your reader?
Here are some examples of squeeze page headlines:
Learn how to _ in minutes.

Get _ with less _ .

How I made _ in _ months.
The example below is a squeeze page from Russell Brunson of ClickFunnels. The headline is punchy and makes the bold claim that this is a life-changing product.
Craft a hard to resist offer
Now you've got your reader's attention with your headline, it's time to tell them what they're going to get.
Your offer has to be super-targeted and offer to cure a specific pain point.
In other words, offer a bribe that your prospects simply can't refuse.
This is where the exchange is made from the lead magnet to getting your prospect's email address.
There are a ton of lead magnets ideas. Here are just a few:
Tutorials.

Cheat sheets.

Discount vouchers.

Checklist.
How do you know what to offer on your squeeze page?
This is where niche marketing comes in.
Niche marketing is when you focus all of your efforts on a well-defined and precise section of a group of people.
With niche marketing, it's easier to show you're an expert because you concentrate all your efforts on getting to know a small part of the population inside and out.
Have a read of my blog to discover more about niche marketing and how to get a head start by zeroing-in on what your prospects are looking for.
There are other ways to find out what your prospects want.
Find questions that keep coming up in online communities and forums, like Reddit.
Identify these questions because it's a topic that people are interested in getting more information about.
Give more bonuses than anybody else
It's likely that you will have competitors in the same market as you.
Using this technique, your lead magnet will instantly standout.
Unfortunately, most lead magnets are cookie cutter.
Differentiate yourself by providing bonuses that people can't refuse. For example, I offer 23 bonuses for signing up for my email list.
Create a persuasive call-to-action (CTA)
Your call-to-action should be clear and strong.
It should guide your prospects, so they know exactly what to do next.
Make your CTA brief, clean and straightforward.
It could be something as simple as "sign up" or other statements such as:
Let's get started.

I want my free e-book.

Get the cheat sheets.
Feeling nervous about writing sticky copy that will convince your prospects to give you their email address?
With Funnel Scripts, you can create different types of content in minutes. It turns even a beginner into a copywriting guru.
Read about how to use Funnel Scripts to create the perfect headlines, offers, CTAs and more in this blog.
Make the most of social proof
Social proof is getting to be a must-have as part of the anatomy of a high-converting squeeze page.
Today, people are more skeptical of handing over their email addresses, even if you have a great offer.
What can push them in the direction of handing over their details is providing social proof.
For example, your squeeze page could have a line saying "10,000 people have already signed up."
Another type of social proof is to use the logos of reputable platforms and media outlets you've been featured in.
The example below displays the logo of sites like MOZ, Lifehacker, etc. that are well known and respected.
See this squeeze page example of how social proof is used to convince prospects to part with their email addresses.
Even if you don't have a large email following, you can always use different types of social proof.
Testimonials are useful here.
Get someone who has had a great experience of your product or service to provide a short, sharp and straight to-the-point testimonial on your squeeze page.
• Get rid of distractions
Think: "less is more" when designing your squeeze page.
It's recommended that you strip out your navigation, so that the focus of your prospect is only on your offer.
Don't include any navigation links because this will take your readers' attention away from what they need to do.
Your squeeze page should be distraction-free, like the squeeze page example below.
Include a privacy statement
More than ever, people need to know that their details will be kept safe.
A privacy statement on your squeeze page will help squash your prospects' fear about misusing their data.
A simple statement, like "we respect your privacy and will never share your information" or something a bit longer (like in the example below) is a good start.
• Use a squeeze page builder
There are quite a few squeeze page builders out there.
Two of the most well-known are LeadPages and ClickFunnels.
Ever wondered what the differences are between those two leading squeeze page and sales funnel software?
I give you every single detail you need to know to help you choose.
Check out my "ClickFunnels Pricing Review Vs LeadPages Pricing Review – What You Need To Know About The Funnel Hacking Tools of Choice" here.
I choose to use ClickFunnels to build my business for so many reasons.
Firstly, ClickFunnels is specific sales funnels software, which means conversion rates are much higher than DIY or standalone squeeze pages.
Because of the potential of squeeze pages to skyrocket your email list and grow your sales funnel and your business, you need to have the best squeeze page builder.
With ClickFunnels you cut down on your marketing costs.
It's like a Swiss Army knife of online marketing.
You don't need to be an expert in coding to build the perfect squeeze pages every time.
Do away with needing designers, developers and content writers because everything's just in one place.
Want the best deal on ClickFunnels?
Check out my pricing review on how to bag the best deal.
If you want, you can take one of the best squeeze builders for a test run with this 14-day free trial.
You can try all features and build your squeeze (and any other sales funnel) pages to see whether it's suited to you.
And, just for signing up, you'll get a suite of my full bonuses, which include 23 pre-built funnels.
Using ClickFunnels, you'll be spoiled for choice with customizable templates that are suitable for different skill levels.
And it's so simple and intuitive to use.
You can literally build your squeeze page in a few minutes.
Here's a step-by-step guide to using ClickFunnels to build your squeeze page:
After you sign up for your ClickFunnels account, click on the 'Account' tab at the top of the page.

Choose 'Digital Assets' from the drop down menu.

Click 'Add New Asset.'

Drag and drop your image or upload it from your computer.

Complete the information for the 'Name', 'From Name', 'Your email' and 'Message' fields.

Click 'Create Digital Asset.'

Copy the URL by right clicking on the digital asset.
You can then move on to create your new funnel.
ClickFunnels has already helped so many people (including me) to create multi-million dollar funnels and continues to be chosen as one of the best squeeze page builders.
Get your free 14-day trial with ClickFunnels now for an endless supply of squeeze page templates with pre-built examples from one of the best squeeze page builders around today.