Click Funnels Pricing Vs. Leadpages Pricing
Updated, July 2019 – Don't miss the bonuses included below!
This Click funnels Pricing Review is up to date and relevant for 2019! This information includes features, pricing changes, interface and strategies are fully included in this review. If you are trying to build a sales funnel for the first time or have an existing business you are looking to upgrade, you've found the right article.
*Be sure to catch my bonus section below!!! I provide an entire online marketing suite to help you fast forward success!* This tutorial is meant to be a springboard for your online business!! If you use my affiliate link I offer an unmatched group of bonuses to say "thank you" for signing up through me (at no extra charge to you)! Enjoy!
Click funnels Pricing: How Much Does It Cost?
Leapages Pricing
$37/mo – The most limited page builder option with limited integration features. You don't get to split test.
$79/mo – You get Lead Digits, Lead Links and you can split test.
$2400/yr – You get all of Leadpages features along with their Leadpages training.
Click funnels Pricing
For a 2019 Clickfunnels Pricing Review, you can visit this post.
…
---
In most cases, people who find this blog post are searching for a solution to their online business needs. Whether you are in start up mode or have a sales funnel you want to optimize in a better way, CF and their current pricing structure is pretty straight forward. At the same time, Leadpages and their plans are a long time incumbent in the marketplace. In the last four years though, Russell Brunson and Click funnels have taken the online marketing space by storm and popularized the term "sales funnel".
I personally prefer Click funnels pricing structure and tool stack for all three of my current businesses. If you've been around internet marketing lately, you've likely heard of CF founder, Russel Brunson(author of Dotcom Secrets and The Perfect Webinar).
CF has an aim to be an online marketer's climax when it comes to all-in-one tools.
You also have another major player in this space, called Leadpages. Leadpages is the incumbent market leader. They've taken direct response marketing to new heights in recent years.
Today, I'm going to zero in on Click funnels pricing strategy, what they offer and compare it to Leadpages, the elder brother.
How To Claim Your Click Funnels Bonuses In 2019
#1 – Clear your cookies and cache from your web browser prior to clicking on my affiliate links in this post. Then proceed to click through. Start your 14-day trial here.
#2 – Email me at josh at groovymarketing dot biz and request your bonuses (I type out my email address like that so that spammy bots can't scrape my email address and spam my inbox…but I do answer this email address personally).
It's as simple as that. And yes, I do check my email personally.
I hope this review has been informative and leave any comments or questions that you have in the comment section below.
– Facebook Marketing Madness Training Course – How To Launch High Converting Ads In Any Niche
– My Clickfunnels Basic training course
– 23 Pre-Built Sales Funnels that you can import directly into your Clickfunnels account.
– How To Rank Youtube Video Fast – Mini Course
– Access to a 100 Day Social Media/Affiliate Marketing Bootcamp
– Unlimited email support so I can help you with your sales funnel that you build with Clickfunnels
– Training on how to set up custom domains for free inside your Clickfunnels Account
– My roadmap to email marketing course
– My funnel hacking playbook so you can mimic what other successful online entrepreneurs do with their sales funnels
– 1 Free Copy of Russell Brunson's book, DotCom Secrets
– Free Training Video On How To Increase Sales By 150% with ClickFunnels
Here's a quick video tour of my Clickfunnels Bonus Area:
My Primary Click funnels Pricing Video Below
Before I go much further, it's important to note that we are comparing two similar solutions, but by no means are they exact matches. However, there are plenty of overlaps that can confuse a good buying  decision. That's why I've spent so much time and effort on this CF Review. I want my readers and audience to get an exhaustive look on the sales funnel tools of choice and how they can best benefit.
Here's my video review of ClickFunnels and LeadPages Pricing. I go into further detail below the video in regards to features, etc. You'll find no better source on Clickfunnels Pricing strategies, features and additional sale funnel know how than here on my blog. Be sure to start your 14-Day Free Trial of Clickfunnels to access my bonuses I mention in the following sections.
Now, as a marketing consultant who works with hundreds of active small business owners, I've built my entire business using the CF platform. It's worked so well, and my passion for helping business owners make more money faster, I've started an exclusive Sales Funnel Mastermind for twelve, motivated entrepreneurs per year. You can learn more about my "inner circle" at this page (BTW, I built it in Clickfunnels).
Pricing – Clickfunnels Vs. Leadpages
Clickfunnels Review: Features Vs. Everyone Else
Leadpages Pricing Chart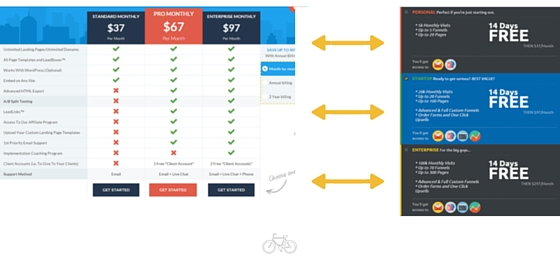 Leadpages Pricing Table
ClickFunnels Pricing vs. LeadPages Pricing
Both CF and Leadpages offer monthly contracts that you can cancel at any time. Yearly discounted options are available too.
CF currently offers a 14 day trial for all new customers. I don't think Leadpages has ever offered a free trial, but they have offered a 30 day money back guarantee.
CF provides a yearly plan after you jump into a monthly plan of choice. This annual plan provides you with 2 free months of CF access.  Leadpages offers 20%-30% discounts on their pricing when you sign up for a yearly plan.
Leadpages Pricing if Paid Annualy
Leadpages Pricing if Paid 2-Years of Front
We all know pricing changes, but it seems these two juggernauts have found enough data to tell them that they are in the right ballpark.  CF has been so successful in their recent launch that they are receiving VC offers (to my knowledge they've rejected them to date).
LeadPages is now offering at two year billing option while ClickFunnels pricing offers the annual option only through direct upsells. At some point, I'd like to analyze their check out processes in a more forensic detail to see if I can pick up on any subtle funnel magic at play.
Another upsell with ClickFunnels pricing is on their check out page. They offer an ebook for $47(pictured below). They are constantly split testing, so expect to see this bump order change whenever you check out.
Comparing Landing Page Designs Between Clickfunnels and LeadPages
Here's a quick screenshot of CF landing page dropdown picker:
I remember the first time I logged into my new CF account and saw all of the page designs. I was so thrilled to have NEW layouts to work with. This doesn't even count the high level of customization you can add to any page you want.
Here's a screenshot of the same from LeadPages:
Above are some of the most popular Leadpages templates on the web. To be honest, I love these and also love how they are constantly adding new designs to their portfolio. It's exactly why I've been a customer for a long time. You can even sort them by conversion rate, which gives you a little more piece of mind when you are facing decision fatigue already as a marketer.
Final Thoughts – LeadPages Pricing Vs. ClickFunnels Pricing
Here are a few items left to be discussed.
CF limits your access to certain types of pages and funnels based on your account level(CF pricing of $97+ gets you all the access), but you get full split testing capabilities. The problem with Leadpages Pricing is that you don't get split testing capabilities at their startup price point. This is not good, nor something you want to miss out on. You have to split test as a marketer or you are flying blind. I explain more in this post on split testing.
Both solutions have great dashboards. Leadpages uses a clean dashboard approach. CF uses flat icons and seems to have more robust statistical data.
While the Leadpages vs Clickfunnels debate rages on, it's important to remember that technology is only as good as the marketer that wields it.  Clickfunnels and Leadpages (along with a stable of other competitors) are simply a platform at your disposal.
The Page Editor – ClickFunnels Pricing Vs. LeadPages Pricing
This piece of the puzzle is massively important in regards to conversions. Being able to make the changes necessary based on the data you aggregate from split tests is huge.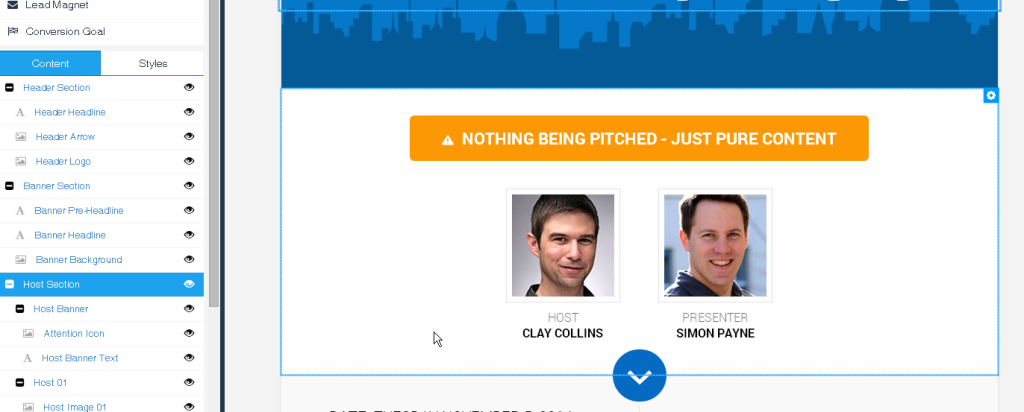 Leadpages gets the short straw on this feature. They limit you extremely when it comes to editing page structure or even primary elements like headline placement.
The argument, of course, is that if you give people too much liberty, they will simply "mess it up". I'll let you be the judge on whether you can create a landing page that converts without constraint.
This probably explains LeadPages effort on constantly delivering new templates to use.  I'm actually a big fan of the customization options that CF provides.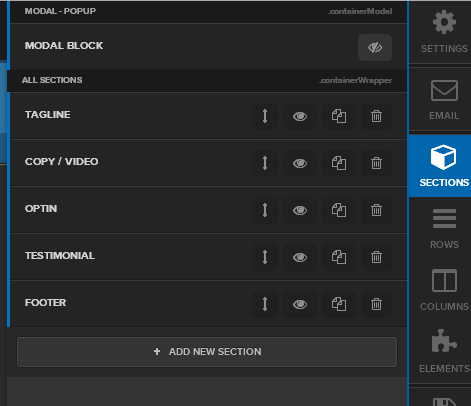 Technical Support – What Clickfunnels Pricing Gets You In Terms of Support
When it comes to online software, technical support is a major player in you monthly or annual investment decision.
ClickFunnels pricing offers priority support to those who choose Enterprise plans along with priority template requests. These two options are not available to anyone else.
All other pricing plans receive great email support.
Leadpages customers receive a little more support than CF members do according to their pricing table. They have email and live chat support in addition to phones.
It's unclear if CF will add chat support, but their email support is really good in my experience.
ClickFunnel Affiliate Program Vs. LeadPages Affiliate Program
Here the straight facts on the respective affiliate programs. Keep in mind that if you are an online marketer, blogger or podcaster you can make a lot of passive income by taking advantage of these affiliate programs.
Guys like Pat Flynn, John Lee Dumas and others make most of their income as affiliates.
ClickFunnels:
40% lifetime recurring affiliate commissions for ever sale you send their way.
LeadPages:
You must be a LeadPages Pro account user and the commissions are at a 30% rate
Disclaimer: I am an affiliate of Click Funnels and will get paid a commission if you choose to start an account by using one of my links in this post…at no additional cost to you. Plus, if you do use my links I will provide you with bonus materials …AND I will share with you my highest converting funnels directly from my account. Sound crazy? Try me.  Check out the below section that covers the bonuses I include.
– Facebook Marketing Madness Training Course – How To Launch High Converting Ads In Any Niche
– My Clickfunnels Basic training course
– 23 Pre-Built Sales Funnels that you can import directly into your Clickfunnels account.
– How To Rank Youtube Video Fast – Mini Course
– Access to a 100 Day Social Media/Affiliate Marketing Bootcamp
– Unlimited email support so I can help you with your sales funnel that you build with Clickfunnels
– Training on how to set up custom domains for free inside your Clickfunnels Account
– My roadmap to email marketing course
– My funnel hacking playbook so you can mimic what other successful online entrepreneurs do with their sales funnels
– 1 Free Copy of Russell Brunson's book, DotCom Secrets
– Free Training Video On How To Increase Sales By 150% with ClickFunnels
Here's a quick video tour of my Clickfunnels Bonus Area:
Integrations With Third Party Applications
Both platforms offer an incredible list of integrations to help you plug into the rest of your marketing machine. For the most part, it's the email marketing companies that are front in line when it comes to integration needs. LeadPages and ClickFunnels both work with the major players.
Let's zoom in though:
ClickFunnels Integrations:
Their platform and much of their customer base preaches that they only need ClickFunnels and their email service provider to have a complete solution. I find this to be true with my Groovy Marketing business.
They integrate with merchants too. Here's a list of integrations in no particular order:
Email Integrations:
Payment Integrations:
LeadPages Integrations:
Email Integrations:
Webinar Integrations:
ClickFunnels Blog VS Leadpages Blog
When it comes to over the top value add, look no further than the blog in each of their respective "corners". I really love the blog over at ClickFunnels.
However, at the time of me writing this, the CEO of LeadPages has dropped a massive post update.
Here are the blogs so you can devour as you wish:
7 Ways To Grow Your Business With Clickfunnels
Clickfunnels vs. Builderall – What Should You Use To Build Your Online Business?
Clickfunnels Clickstart Program – Why You Should Do It If You're Building An Online Business
The Ultimate Review of Clickfunnels Vs. Kartra and Which Tool Will Grow Your Business
Clickfunnels Pricing Review: How To Get The Best Deal On Clickfunnels
---
ClickFunnels Pricing Table vs. LeadPages Pricing Table vs. Optimize Press Pricing Table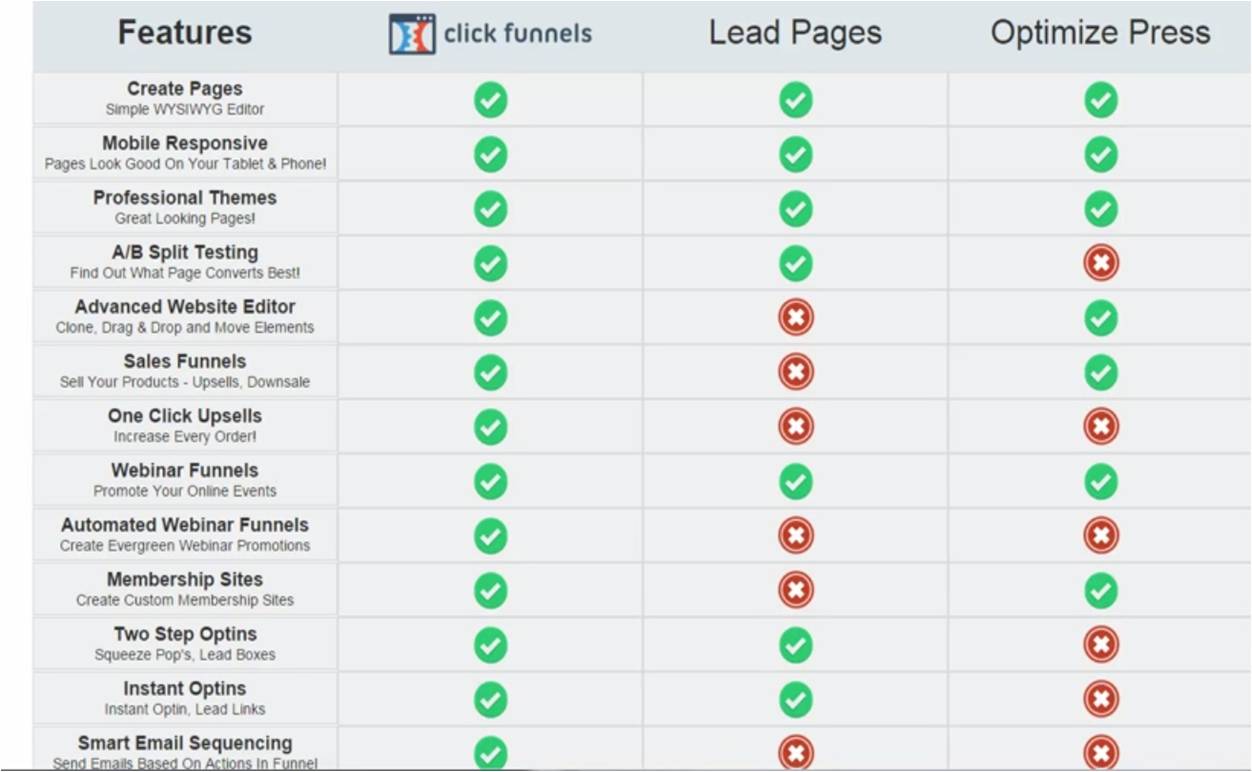 Great "Extra Features" To Note:
This section is about how each platform has some features that are not necessarily categorized.  These are not core features, but definitely some bells and whistles you can't miss.
---
---
Digital Asset Delivery ( LeadPages and ClickFunnels)
You can upload lead magnets directly into your account. Then set conditions inside each funnel or campaign so that your asset is delivered to your new lead automatically. No email service provider required for this action.
You Can Share Your Funnels With Other Members (ClickFunnel Members Only)
This is literally an industry changing feature. With one click, you can import someone else's completed (or incomplete) funnel into your account. This saves you hours of time so that all you have to do is optimize. Again, if you sign up with my link for ClickFunnels, I'll share some pretty great funnels I've acquired directly to your account.
Bonus Template (LeadPages Only)
This is a recent addition at Leadpages via their blog. It's a template that you can use to bribe leads who do not opt in and re-market them using Facebook ads or something different like PerfectAudience or AdRoll.
Drag and Drop Pages with Funnel Click Through Percentage (ClickFunnels Only)
ClickFunnels allows you to move pages into different positions inside your funnel with an easy drag and drop editor. Also, you get a funnel wide click through rate to help you see the macro performance of the sales funnel you are reliant upon.
My Preference?
I choose ClickFunnels. Here's the explainer video that first won me over:
Here are some fun success stories I found on YouTube:
ALSO – get this $397 course for FREE when you sign up for ClickFunnels today!
Want more information on ClickFunnels? I wrote another post called "Why I Ditched Leadpages" here.
How To Increase Sales By 150% with ClickFunnels
Want to learn how to set up a custom domain with your Clickfunnels pages? Check out this video!
Clickfunnels Pricing Posts That You Might Also Enjoy
How Clickfunnels Helped Me Build A 7 Digit Business
I Won My Dream Car – Thank You Clickfunnels
Clickfunnels Pricing Review: Why I Pay More For The Clickfunnels Suite (Etison) and How It Made My Business (and life) Better!
Clickfunnels Pricing – Is It Worth It?
Clickfunnels and What You Need To Know About The Sales Funnel Tool That "Changed The Game"
Since my original post here, I've gone on to create more businesses using Click funnels.  This sales funnel editor has become central command for all of my revenue ideas and endeavors.
They don't all work, but as Mark Cuban says "You only have to be right once".  Clickfunnels pricing turns out to be well worth it in my opinion.  I've paid Russel Brunson and his team $297 per month for three years now.  THREE YEARS! I don't regret it one bit.  Have you invested in Clickfunnels yet?  Are you growing your business or side hustle? Take action and execute. That's the most important thing I can say in this entire post.
Go do it. Go get what only you can take. Start your 14 day FREE trial of Clickfunnels here.
Clickfunnels Pricing – Gold Digging with Squirrels?
Recently, Clickfunnels hired famed viral video producers, the Harmon Brothers to produce their very own viral video. I gotta say, it's fantastic.
I've linked to the video here for your enjoyment. If you're still worried about how much Clickfunnels costs, surely after watching this explainer video helps you see that the platform is trustworthy, legitimate and affective.
Now, it's up to you to get results for your online sales funnel and business.
What is Clickfunnels at the end of the Day?
Clickfunnels is an online sales funnel builder that helps businesses market, sell, and deliver their products online. People inevitably ask me, "What is Clickfunnels?". So, technically speaking, it is a funnel builder for online businesses who want to get their message and product into the marketplace in the most efficient way possible. Efficient meaning, high conversion rates. Sales funnels built with Clickfunnels do collectively over $1 Billion dollars every year and Clickfunnels has active about 50,000 users. I can confidently say that Clickfunnels can accommodate any industry, any niche, any vertical. Sales funnels can be manipulated and optimized so easily using Clickfunnels giving the end user the best opportunity to make more money online and scale a modern business platform.
Using Clickfunnels and taking advantage of Clickfunnels pricing, you can easily create a marketing funnel from scratch and include all the operational pieces needed to have a high converting funnel. In the "old days" of online business, you had to deal with website hosting, autoresponders, landing page vendors, amongst others just to have everything work in concert together.
With Clickfunnels it a new opportunity to do all of that in one central tool.
Start your 14 Day free trial of Clickfunnels here and access my bonuses that I mention in the above sections. I look forward to having you in the Clickfunnels tribe. You are only one funnel away!
Ultimately, marketing funnels and sales pipelines are the most important asset that any business can develop. For my businesses, I build all marketing and sales funnels with Clickfunnels because it allows me to deploy quickly.
6 Steps To Successful Funnels with Clickfunnels
One thing I've learned in my time with online business is that there are basically six steps or phases to a successful funnel.  Since you've been such a good sport and have read my Clickfunnels Review this far, I'm going to provide you with my "secret" steps.
#1. Target Phase – You have to identify your target customer, their target pain and their target desire, benefit or result.
#2. Action – You need to just take action and make a mess. Get messy with your funnel and just try to sell SOMETHING to SOMEONE. Always be measuring.
#3. Analyze – Look at what happened in the action phase and take what workes. Organize the data.
#4. Optimize – Make changes to your marketing funnel around the data you obtain. Clickfunnels makes this easy.
#5. Launch – Deploy the optimized marketing funnel.
#6. Scale – Purchase customers in volume and create offers that scale with your distribution.
Want a deeper set of training modules on these 6 steps? Sign up for Clickfunnels with my affiliate link and I'll give you free access to my NEW Clickfunnels Bonus suite that includes all my bonuses mentioned in the above sections as well as six brand new modules. Sign up for Clickfunnels here.
What I Learned Recently at Clickfunnels HQ – Russell Brunson's Private Mastermind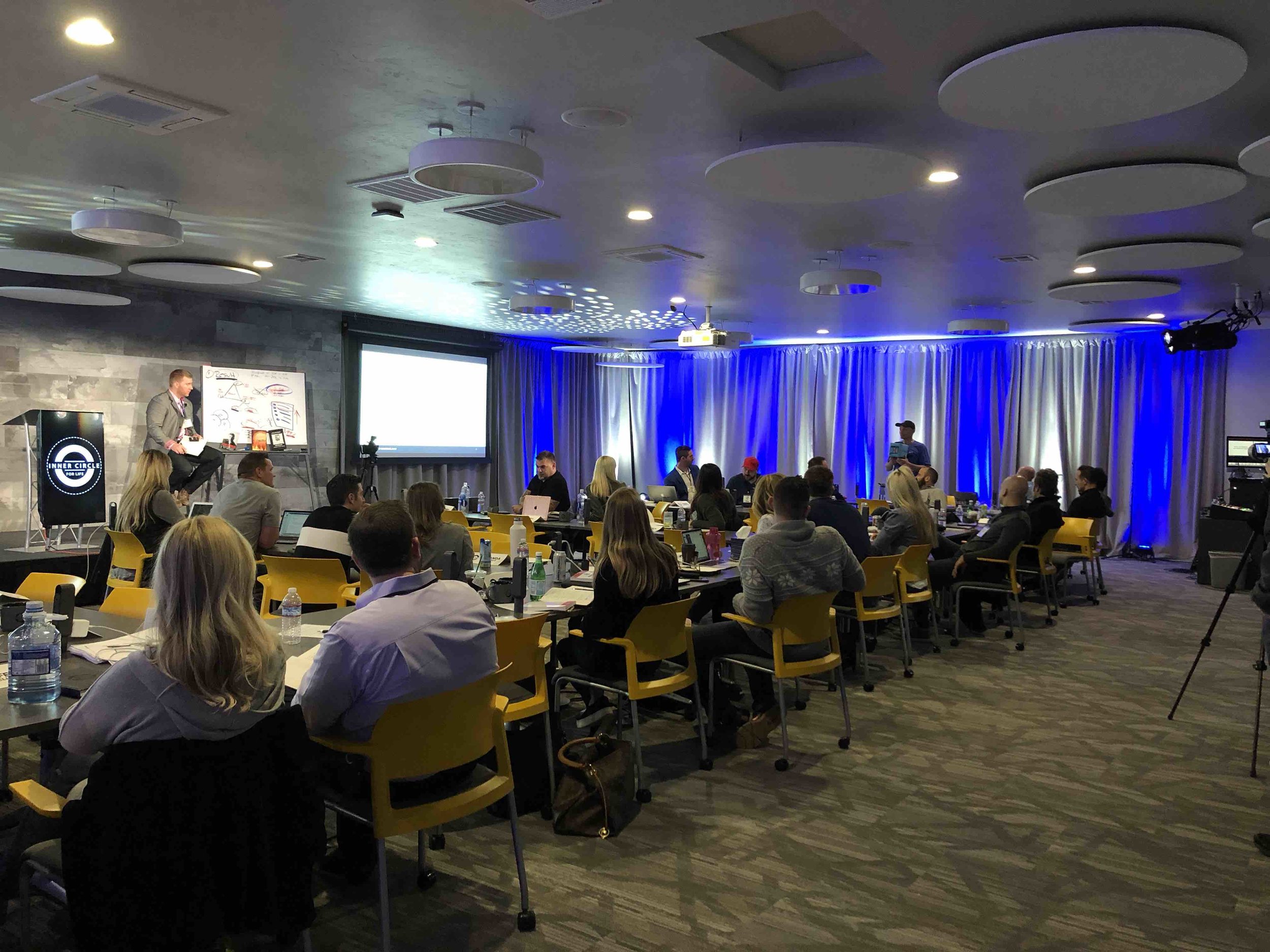 When you go to Clickfunnels HQ and spend two days with some of the best online marketers in the world, you gotta write about.
I'm in Russell Brunson's Inner Circle, a private mastermind for only 100 of the smartest entrepreneurs and marketers on the planet. We get to fly to Boise, ID twice a year and hangout, work on each other's businesses and just get better.
I learned a lot and I wanted to give you a few of the high points in hopes that you can grow your business with them.
Here are the "golden nuggets" from our meetings:
Golden Nugget #1 – Just about ALL funnels, or businesses, fall into one of the following three categories: 1. Health 2. Wealth 3. Relationships.
If you are searching for your niche, dive into one of those three categories and you'll find a customer and a problem they face to build your business around.
If you already have a business and you're trying to launch a new line of revenue, these three categories are where its at.
Golden Nugget #2 – Improvement Offers are bad. People don't want to be improved upon. They want a "new opportunity".
So, if you are promoting an improvement offer and you're not making the money you want, now you know why.
You have to position your offer and hook around a new vehicle that will take them to their health, wealth or relationship dreams.
Golden Nugget #3 – If you're not using social proof for every part of your offer, you are leaving money on the table.
If you have a product, course, service, etc…and you have an offer stack showing the immense value to your customer or prospect, use a story to reinforce every deliverable you have.
This will create such a torrent of value in the mind of the prospect, that your price will actually transform into a very affordable price to them. Then, price objections or sticker shock will never keep your business from growing again.
Those were a few of the nuggets I gathered. It's crazy that even though Clickfunnels is a software at the end of the day, it's so much more than that. It's a coaching and entrepreneurial ecosystem that creates millions of dollars a year of indirect impact on people around the world.
Whether you call it Click funnel or Clickfunnels, you can always trust this software to build the best sales funnels on the internet.
I wanted to make a quick video today about ClickFunnels pricing and is it worth it. My name is Josh Rhodes with SalesFunnelMadness.com and GroovyMarketing.biz blog. I'm an avid ClickFunnels fan, I'm an avid user and I've been a customer since they launched in 2014. I'm also a proud affiliate reseller of the solution. By way of disclosure, I do get commissions at no extra cost to you when you sign up using my affiliate link, and I'll be providing that in the comments and notes for this video, depending on where you're watching this. I also provide extra bonuses that you don't get when you sign up in other places for ClickFunnels.
I just wanted to make that clear so that's all out in front and on the table. I'll get to that in a minute, but first I wanted to add some value and show you around ClickFunnels, but specifically a lot of people ask me, "Hey Josh, is this solution really worth it?" My question really back is, "How much do you really have to lose?" First of all, they offer a 14 day trial, plus, even if you paid for one or two months, the $97 a month plan, which is their StartUp Plan here, and it's plenty for those of you who are just now building sales funnels or you maybe you have a lead pages or optimized press or Instapage and you just want a little bit more horse power, ClickFunnels is the way to go.
However, if you're a beginner it's still the way to go because they have drag and drop one click solutions for anybody that is not tech savvy or doesn't know code, that's why ClickFunnels exist. I am personally a customer of the Etison Suite, so if you're an advanced affiliate marketer or direct response marketer, you have an email list that's pretty substantial, you've done online business before or even offline business, local businesses, real estate agents, dentists, lawyers, authors, you name it, Etison Suite or the StartUp Plan is a great option for you if you're wanting to enhance your marketing funnel and your sales funnel conversions online.
I'm going to show you some examples of just really kind of the fire power that ClickFunnels brings to the table. What you're seeing here is literally the inside of my ClickFunnels account and just real fast, I want to just scroll down and let you see the kind of activity that I create inside my ClickFunnels account. These are all active or semi-active funnels that I use on a weekly basis for my business. You might be wondering, "Well, Josh, what do you do for business?" And I do a few things. I have a few streams of revenue, if you will, businesses. One would be SalesFunnelMadness.com, which is right here. I talk about ClickFunnels, I talk about building sales funnels and I help people build their sales funnels.
This is also kind of a starting block, if you will, for my ClickFunnels affiliate sales. I do reviews, I also offer bonuses, which I'll go ahead and show you here real quick. I have several preexisting pre-built funnels, a perfect webinar funnel, if you're selling real stuff, like in an eCommerce platform, if you're trying to do a product launch. A couple of my clients currently, that I'm building funnels for, is in the middle a product launch. If you're in an MLM or a network marketing situation, I've got a funnel for you. I've got a fishbowl funnel. I've got best selling book funnels for authors, and, as you can see, a ton more. If you tell me what you're into, once you can sign up using my ClickFunnels affiliate link, I'll be happy to give you maybe an even more relevant funnel to your particular niche or vertical that you're in.
For instance, you may be in a local business or you might be trying to do SEO or something like that. I have a local lead generation business where I build local websites for limo services and plastic surgeons and moving companies, garage door repair, you name it, and they act as great websites for those folks as well. So, I can give you a head start, but I wanted to show you kind of an opt-in funnel that I've been building for one of my author clients. She's an author. She's super smart, super successful, but she's always had the majority of her business offline and she's wanted to move her sales funnel online and specifically she wanted to use ClickFunnels. So, she signed up for ClickFunnels under my account, but then she also said, "Hey Josh, I need you to go ahead and help me build this, since this is kind of a must first crack at online distribution and sales."
So, I was happy to take her under contract and put something together for her. As you can see, this right here is inside of what we call an opt-in funnel. The way you create an opt-in funnel, if you're wondering, is this easy button right here. With one click you get an option, what's your goal, collect email, sell a product, host a webinar. I also have some unbelievable webinar funnels that maybe I can … If I have time I'll show you later in this video, but real quick, when you choose collect emails you're obviously going to name it, and grouping and tagging is very important, I will do that with this one.
Quite literally ClickFunnels is going to organize and arrange the two pages, the only two pages you need to build a massive email list, and they're going to show them to you right here. And they've got all these templates that you can choose from. As you can see over here, the final steps is quite literally the chronological or the stage-by-stage steps that your funnel will need to appear in and then you have these templates over here on the side that you can choose from at any given moment, that are really great. And they will sort them in converting order.
Once you choose your opt-in template then you're ready to customize, which is what I've done over here with my client's opt-in funnel. The other thing that you do, and if you've learned anything about marketing online or any kind of marketing for that matter, is A/B split testing, is very important so that you can know what works and what doesn't and you can make your campaigns better and better, smarter and smarter and more and more effective. So, there's a little preview window and once you've run enough traffic to these A and B variance then you can actually declare a winner, and then allow that to be your control or your control variant. To edit these pages you simply click on at page and it takes you into the page editor or the webpage editor.
As you can see, the layout is here on the right hand side, you can see the control panel or the toolbar, and all of these things, obviously, have everything to do with what's on the page here. Once you're on the page you have the settings menu, it's going to be a lot of stuff here. You don't always have to just go through these things one thing at a time, a lot of times these are going to be already preset the way you like them, but the meta tags in the social settings you always want to update. So that, for instance the social image is when you copy and paste a URL into a social media platform like Facebook and that's how picture shows up sometimes. Well, that's where that picture comes from. Then of course, up here where it says 'start here', you can see that that's what's here as well.
You can change the name to your company name or your product name or say 'hi' to your prospect, whatever it is. The rest of the stuff is very useful. The page description and keywords, very useful in SEO, if you are paying attention to SEO, but most people using ClickFunnels aren't overly concerned with SEO because they're driving traffic with either JV, Joint Venture Partners or affiliate partners who have email lists, or they're driving traffic with Google AdWords or Facebook Ads, something like that.
You also have your email integration for your email service provider of choice. That's where all of this lives. For instance, I can choose my MailChimp account here or my Actionetics account, again, that's part of the Etison Suite that I was mentioning. I have the Etison Suite for everything that I do. And then the way the screen or the pages are constructed are in three or four, technically, but really three different ways. You've got sections, which, if you see my mouse hovering here, you can see the light, see phone green, these are the sections. Then you have rows, which are the blue that you see here, and you've got elements inside of rows and they're the orange elements.
Inside of each of these you can quite literally edit everything. I can double click here, I can bold, I can unbold, all that good stuff. You can open the gearshift or the gear mechanism icon and over here you can do all your editing, you can choose fonts, you can choose sizes, spacing. You can do everything. The flexibility offered by ClickFunnels is unmatched. Then you can hit preview and then in your preview screen you can see your live page. You'll know, if you do sign up for ClickFunnels under my affiliate link, this is my email address for unlimited support and also that's how you can access the bonuses that are provide, just by simply emailing me and saying, "Hey buddy, give me the bonuses you promised me." And then I will email those back to you. I've got a special members area that, again, I've built inside of ClickFunnels because you can build membership funnels, membership platforms, inside of ClickFunnels. It's really awesome and very powerful as well.
Then of course, when you're done you hit save and you exit. And opt-in funnels always have thank you pages, so that when people do opt-in the next page sets expectations, gives instruction, allows them to download the resource that you promised them. So, you can provide buttons, images. Inside the buttons you've always got a opportunity to provide a downloadable URL, which also you can host inside of ClickFunnels via your digital assets menu. And the digital assets menu is, of course, inside your account menu here. So much flexibility, so much power inside of ClickFunnels. It's really outrageous.
I wanted to also show you, which by the way, you can delete or archive funnels that you don't want. So, I'm archiving this test funnel immediately. This should take me back to the main page. It does. One of the cool things about ClickFunnels is that you can share funnel. So, quite literally, let's say you want my event application opt-in funnel. I can go to settings and I can grab what we call the share funnel link, which is right here, and I can send that to you and you can import it directly into your account, and it's super easy. Quite literally, click on it and boom, it lets you into your account. And you get all these cool prebuilt features, cuts down on time a whole lot and allows you to concentrate on optimizing instead of always building.
Of course, some of you are makers and originators and you really want to build your own thing and that's totally fine. I would just say, make sure you adhere to direct response principles and philosophies when it comes to creating your funnels, that is something that's super easy, but the best way, as Russell Bronson of ClickFunnels, he's the founder of ClickFunnels and DotComSecrets. He's a big proponent of what we call funnel hacking. Funnel hacking is something also that I've written about on my blog. As a matter of fact, I'm hoping this link works. Yeah. GroovyMarketing.biz/funnelhacking. I've created a funnel hacking playbook.
As you can see, when you get on my blog you can … I'll send you those six free funnels, which will allow you to start a free trial with ClickFunnels. But I've created a funnel hacking playbook. A funnel hacking playbook, just so you know, funnel hacking is literally not starting from scratch, but using competing and successful funnels to create your funnel. I give you some instruction here in my blog post about how to do a proper funnel hack so that you can end up not having to recreate the wheel and you can start making more money faster and be more profitable while you're doing that.
Again, that's just my quick tour through ClickFunnels for you. Showed you a couple of things obviously, there's hours and hours and hours of progress that you have whenever you dive in the ClickFunnels. I hope this was helpful. If you have any questions please make a comment or email me, let me know what they are. I'm happy to pull the kimono back, show you around, answer your questions and even help you with strategic marketing advice. If you're still watching this video and you sign up for ClickFunnels with my link, just make sure you click the link below and start a 14 day free trial, then email me, [email protected], and I'll make sure that I send you everything that you get with becoming an affiliate under me, which is simply starting your account, and I'll send you six of my highest converting funnels absolutely free, so that you can get going on production and not just architecture.
Then of course, email me anytime if you have questions about architecture or if you have strategic questions about marketing, acquiring leads, acquiring customers, your sales funnel. That's why I created Sales Funnel Madness, because I'm absolutely in love with making sure people take the difficult out of their sales funnel. That's what Sales Funnel Madness is all about. So, again, Josh Rhodes here, signing off. Hope this was helpful. Grab your bonuses when you sign up for ClickFunnels with my link. Make sure you click on the link associated with this video in order to get credit, and it might even be smart to clear your cookies and your cash so that when you do click my affiliate link I'll get credit and I'm able to track that credit back to you and I can unleash your bonuses for you. Again, Josh Rhodes, SalesFunnelMadness.com and GroovyMarketing.biz. Signing off. Hope this was helpful. Thanks so much.
Clickfunnels Pricing Review – Who Is Clickfunnels For?
If you're wondering who Clickfunnels is best suited for, I'm providing a convenient list below. If you fit into one of these job profiles or business niches, its likely Clickfunnels can help you hit your goals quickly:
Marketing Consultants

Agency Owner

Freelancer

Information Products

E-Commerce

Network Marketing

Small Business/Local Business

B2B Lead Generation

Blogger

Affiliate Marketing

Startup

Non-Profit

Just trying to get out of a corporate job
Obviously, Clickfunnels can work for just about anyone. The reason is that its just a tool. You are the most important asset when it comes to marketing and sales. The growth of your company can't be driven by an outside marketing consultant or software. You have to have clarity on what you want, when you want it and how to get it.
Clickfunnels will be a tool to save you time and headache on your journey to that destination.
Clickfunnels Clickstart Program
I recently posted on the Clickfunnels Clickstart Program here. If you don't know about it, you should. This is a sales funnel coaching program for Clickfunnels customers who want to shortcut their progress. It's an 8-week bootcamp and the price is 2 payments of $2750. If you are the type of entrepreneur who understand time ROI and opportunity loss vs opportunity gain, this program from Clickfunnels is for you.
It's a six week 1-1 coaching bootcamp that will turn you into a funnel building machine before you know it. As a matter of fact, if you are looking into other investment vehicles for your personal wealth, a program like this will give you better returns than any piece of real estate or mutual fund. How can I say that? Because the moment you know how to build sales funnels that you can put a dollar into and get two, three or four dollars back out of, well that's big returns! Sales funnels can give 100%-400% returns systematically. Clickfunnels pricing on their various software platforms and coaching programs like Clickstart are just too good to pass up from a business standpoint.
Heck, Russell Brunson has three books alone, that you can get for the price of shipping, that can change your business life forever. Just imagine the immense value he has packed into a $97 per month software or a $5500 coaching bootcamp! Click the image below to learn more about the Clickfunnels Clickstart Program and how it can give you a head start on your online marketing funnel efforts.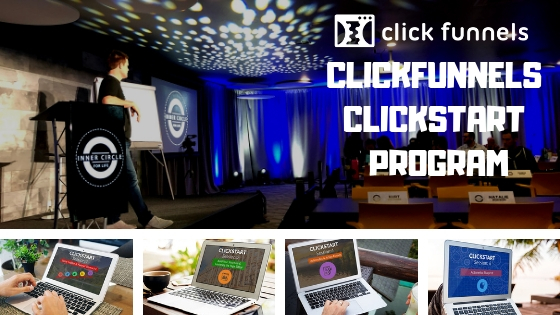 You can find one of my latest Clickfunnels Pricing videos here at this Youtube link. In this video, I reiterate the suite of bonuses I offer you when you sign up for your account using my affiliate link. I also have an extra prize for those who comment and subscribe to my Channel as well.
Here are more great reads on all things Clickfunnels:
https://www.groovymarketing.biz/blog/2016/11/21/clickfunnels-pricing-etison-suite
https://www.groovymarketing.biz/blog/clickfunnels-5-essentials
https://www.groovymarketing.biz/blog/clickfunnels-pricing-2019