The Authoritative Guide to ClickFunnels Pricing v. Leadpages Pricing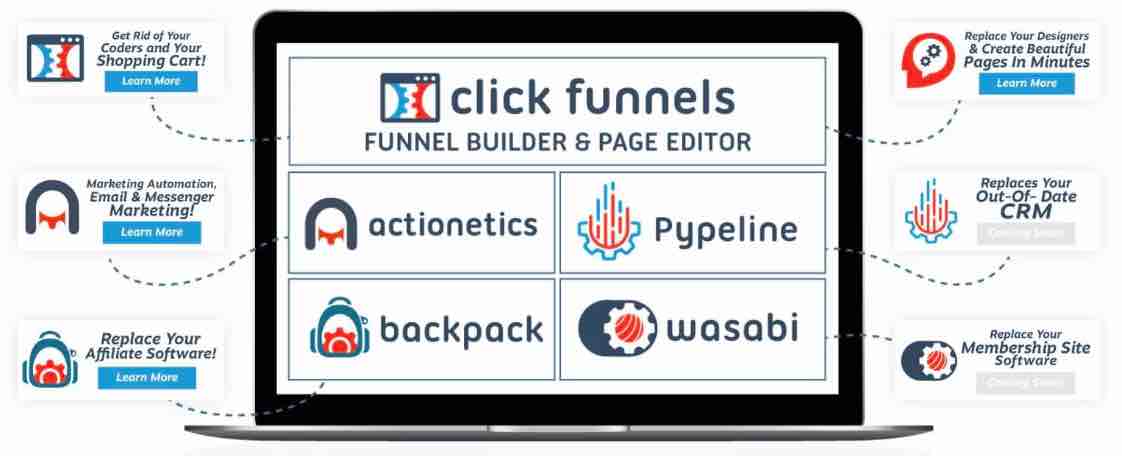 The 2019 Clickfunnels Pricing Review is ready! This year's updated Clickfunnels information includes all the features, pricing changes, interface and strategies.
Also, don't miss my most popular blog post on Clickfunnels Pricing and How To Get The Best Deal!
Whether you're a first time sales funnel user or have existing experience, we're so happy you've found this page. You will find it helpful
*Make sure you pay attention to the bonus section I've written below. It includes an entire online marketing suite to put your success on the fast track*
This Clickfunnels Pricing tutorial will definitely help online business. My affiliate link even includes a unique group of bonuses as to express my thanks for signing up with me. My original Clickfunnels Pricing Review can be found at this link for reference.
…
I've had a lot of success with sales funnels and have built a great team around Clickfunnels specifically.
Clickfunnels Pricing vs Leadpages Pricing – Straight Forward Investment Levels For 2019
Clickfunnels Pricing
We also have Leadpages to consider. They are a long time competitor and predecessor of Clickfunnels. Their pricing is below:
Leadpages Pricing
$37/mo – This is the most limited option with just a couples integration features and has no available split testing.
$79/mo – You receive Lead Digits, Lead Links, and there is split testing availability.
$2400/yr – This will get you all Leadpages features and includes Leadpages training.
Whether your business is in startup mode or have a sales funnel you want to optimize in a better way, Clickfunnels offers a solution to online business needs and an easy to follow pricing structure. While Leadpages has been a long-term stalwart in the marketplace, the last four years Russell Brunson and Clickfunnels have made their imprint on the online marketing world by popularizing the term "sales funnel."
For my personal business needs, I prefer prefer Clickfunnels for their pricing structure and tool stack. And if you pay attention to internet marketing, the name of Clickfunnels founder, Russell Brunson (author of Dotcom Secrets and The Perfect Webinar) is a familiar one.
Clickfunnels Bonus Bundle Now Available!
We hit the Clickfunnels Two Comma Club in less than 10 months!
Clickfunnels' goal is to be an online marketer's dream for all-in-one tools.
The leader in this field for years has been Leadpages, and the have pushed direct response marketing to great heights. You also have another major player in this space, called Leadpages.
As a comparative tool, I'm going to walk you through Clickfunnels pricing strategy as well as what they offer, and then compare it to Leadpages. You can also see one of my Clickfunnels Pricing posts over at Quora.com too.
Clickfunnels Pricing Bonuses: How To Claim Your Click Funnels Bonuses
#1 – Prior to clicking on my affiliate links, clear your web browser of any cookies and cache from your web browser. Proceed to click through. Start your 14-day trial here.
#2 – Email me at josh at groovymarketing dot biz to request bonuses (I type out my email address like that so that bots can't scrape my email address and spam my inbox).
Bonuses are as simple as that and, yes, I do check my email personally. If you have any comments or questions, leave them in the section below.
My Personal Clickfunnels Bonuses Include:
– Facebook Marketing Madness – How To Launch High Converting Ads in Any Space
– A personal Clickfunnels training course
– 23 pre-built Sales Funnels that can be imported directly into a Clickfunnels account.
– A mini-course in Youtube Video
– A 100 Day Social Media/Affiliate Marketing Bootcamp
– Unlimited email support
– Additional training on how to set up custom domains for free within your Clickfunnels account
– An email marketing course
– A funnel hacking playbook to replicate what has made other online entrepreneurs successful with their sales funnels
– 1 Free copy of Russell Brunson's book, DotCom Secrets
– Free training video: How to Increase Sales by 150% with ClickFunnels
Here's a quick video tour of my Clickfunnels Bonus Area:
Clickfunnels Pricing Video: Things To Consider
These are nearly identical solutions, but they are definitely not the same. In many places they're the same. Come along with me and take a deeper dive look at the sales funnel tools to determine which offers the best benefits for you.
Take a look at this video review of ClickFunnels and LeadPages Pricing, where I go into deeper detail on all the cool information and available features. If you're looking to make your business go, there is no better source on Clickfunnels Pricing strategies, features, and additional sales funnel how-to's than here on my blog. To get all the bonuses I mentioned above, be sure to start your 14-Day Free Trial of Clickfunnels.
I am a marketing consultant who works with hundreds of small business owners. My business is 100% constructed by using the Clickfunnels platform. I love to help business owners increase their revenue, so I've begun an exclusive Sales Funnel Mastermind for twelve extra motivated people. If you want to learn more about my inner circle, visit at this page (built in Clickfunnels).
Clickfunnels Pricing Chart – A Simple Diagram
Below I'm including Clickfunnels Pricing Charts that are official from CF HQ. I subscribe to the Etison Suite package personally:
Clickfunnels Review: Features v. Everyone Else
Here's an exhaustive comparison all of the competitors in the marketplace that really matter in the grand scheme of sales funnels and inbound marketing. This blog post I hope can serve one purpose: to be the one stop shop for all things Clickfunnels Pricing comparison.
Pricing – Clickfunnels Vs. Leadpages – Leadpages Pricing Chart
At both ClickFunnels and Leadpage, users can get monthly contracts and annually discounted options are available too.
ClickFunnels gives you a 14-day trial if you're a new customer; Leadpages can give you 30-day money back guarantee, but nothing is free.
ClickFunnels gives access to an annual plan if you sign up for a monthly plan. You get two months for free of ClickFunnels access. At Leadpages, the offer is 20%-30% discounts.
Leadpages Pricing if Paid Annually
Leadpages Pricing if Paid 2-Years up front
As online buyers knows, pricing can always inflate, but it looks like these businesses have landed at the right prices. ClickFunnels' has recently received multiple VC offers (but, as far as I know, they've turned all of them away).
LeadPages can do a two year billing plan while ClickFunnels offers the annual option only if there are direct upsells. Eventually, I will check out both processes in a greater detail to see if I can pick up on any nuanced funnel moves.
ClickFunnels will also upsell you on the checkout page.The most current offer is an ebook for $47 (pictured below). They split test all the time, so I would expect to see something different at almost every check out.
Clickfunnels Pricing – Landing Page Designs:
Here's a quick screenshot of Clickfunnels landing page dropdown picker:
Check out the amount of all those page designs (not to mention their custom options. When I logged into my new Clickfunnels account and saw this, I remember being thrilled.
Here's the screenshot of a similar page on LeadPages:
In case you're wondering, those are some of the most popular Leadpages templates. To be honest, I love how they are constantly adding new designs to their portfolio. It's an example of why I've been such a long-time customer. You can even sort by conversion rate, which helps make your decisions easier.
Final Thoughts – LeadPages Pricing Vs. ClickFunnels Pricing
Here are a few items that have yet to be discussed that I hope you find helpful.
ClickFunnels won't let you access certain types of pages and funnels based on account level (ClickFunnels pricing of $97+ gets you all the access), but you can always split test. The major issue with Leadpages is that you don't get split testing capabilities at their lowest price. Users shouldn't ever miss out on this. Split testing is a priority tool. If you are interested, I go deeper on this in my post on split testing.
Both platforms have easy-to-use and well-functioning dashboards. Leadpages uses a sharp, clean dashboard. The flat icons and statistics is what makes ClickFunnels stand out.
The Leadpages vs Clickfunnels is an important comparative debate. Please be aware that it's important to remember that technology is just a tool that is only as good as the person who uses it.  Clickfunnels and Leadpages (alongside a variety of worthy competitors) are simply an avenue to help address your business needs.
The Page Editor – ClickFunnels Pricing v. LeadPages Pricing
You'll find there is a time when you need to edit to make conversion rates more efficient. The ability to make critical changes based on the data you get from split tests is the most critical decision you'll make.
In my opinion, Leadpages isn't the best for this feature. They limit how much you can edit your page and even basic things like what your headline is.
Their logic, I suppose, is that they don't want you to mess up. You can be the judge on whether you're able to create a proper landing page.
This likely explains why LeadPages feels to need to give users new template options. That being said, I'm a big proponent of the custom pages that ClickFunnels offers.
Technical Support – What Clickfunnels Pricing Gets You In Terms of Support
Anyone who has used software for their business knows that technical support is a major factor every decision, especially when you're paying your own money.
ClickFunnels offers priority support to Enterprise Plan users along with priority template requests. These two options are not available to anyone else.
Every other pricing plan still receives ample email support if you've got an issue or concern.
Leadpages actually offers a bit more support to their members than ClickFunnels does. They offers email and live chat support, as well as support over the phone.
I don't know if ClickFunnels will add chat support, but their email support has been great in my experience.
ClickFunnel Affiliate Program v. LeadPages Affiliate Program
If you are an online marketer, blogger, or podcaster there's a lot of passive income to be made by taking advantage of affiliate programs. Below are the facts on the respective affiliate programs.
Guys like Pat Flynn, John Lee Dumas, and others make most of their income as affiliates.
ClickFunnels:
You'll receive 40% lifetime recurring affiliate commissions for every sale you send their way.
LeadPages:
Just 30% commissions available to users with a LeadPages Pro account.
Disclaimer: I am an affiliate of Click Funnels and get paid a commission if you choose to start an account by using one of my links in this post. There is no additional cost to you. Plus, if you do use my links I will share bonus materials AND I will include my best converting funnels directly from my account. Sound too good to be true? Try it. 
Clickfunnels Integrations with Third Party Applications
Email marketing companies are at the front of the line when it comes to helping with yours integration needs. Both platforms offer a number of integrations to help you connect all of your marketing tools. LeadPages and ClickFunnels both work with the biggest names.
ClickFunnels Integrations:
In my Groovy Marketing business, I've found that I only need ClickFunnels and their email service provider to have a complete solution to my integration needs.
There are a bunch of merchants that ClickFunnels with too. Here's a bunch of them:
Email Integrations:
Payment Integrations:
Email Integrations:
ClickFunnels Blog v. Leadpages Blog
Make sure you look at the blog over at ClickFunnels. I think it's fantastic.
Just recently, the CEO of LeadPages dropped a massive post update, so you'll definitely want to check that out too.
Here are the blogs for you to peruse at your convenience. They're all super valuable:
7 Ways To Grow Your Business With Clickfunnels
Clickfunnels vs. Builderall – What Should You Use To Build Your Online Business?
Clickfunnels Clickstart Program – Why You Should Do It If You're Building An Online Business
The Ultimate Review of Clickfunnels Vs. Kartra and Which Tool Will Grow Your Business
Clickfunnels Pricing Review: How To Get The Best Deal On Clickfunnels
Great "Extra Features" You Get With Clickfunnels Pricing Plan:
If it is extras you're looking for, each platform has a series of can't miss bonus materials outside of the core features.
Digital Asset Delivery ( LeadPages and ClickFunnels)
You can upload lead magnets directly into your account. This can be set up so that every asset you use can be delivered to your new lead as well. Super convenient.
You Can Share Your Funnels With Other Members (ClickFunnel Members Only)
I believe that this is an industry altering component. With just one click, you can import someone else's funnel into your own account, which saves you massive amounts of time. Again, if you sign up with my link for ClickFunnels, I will include shoot these your way.
Bonus Template (LeadPages Only)
The most recent addition at Leadpages is a template to get leads and re-market them using social media or something like PerfectAudience or AdRoll.
Drag and Drop Pages with Funnel Click Through Percentage (ClickFunnels Only)
ClickFunnels is super easy to drag and drop pages into different positions inside your funnel. There's also performance reviews inside funnels to check out which is your best performing funnel.
My Preference is ClickFunnels. Take a look at the video that first sold me:
And here are a few fun success stories I found on YouTube:
Top 5 Parts of A Clickfunnels Landing Page You Should Split Test So Can Create More Revenue from Joshua Rhodes
ALSO – get this $397 course for FREE when you sign up for ClickFunnels today!
Clickfunnels Pricing Posts That You Might Also Enjoy
How Clickfunnels Helped Me Build A 7 Digit Business
I Won My Dream Car – Thank You Clickfunnels
Clickfunnels Pricing Review: Why I Pay More For The Clickfunnels Suite (Etison) and How It Made My Business (and life) Better!
Clickfunnels Pricing – Is It Worth It?
Clickfunnels and What You Need To Know About The Sales Funnel Tool That "Changed The Game"
Since I wrote my original blog, I have continued to create businesses by using Click funnels. The sales funnel editor is where I put all my ideas and endeavors
"You only have to be right once," says Dallas Mavericks' owner and famed investor Mark Cuban
There's never going to be a 100% success rate. Click funnels pricing is simply the most bang for your buck. My $297 has gone to Brunson and his team for three years now. I haven't second-guessed my choice. Let me ask: Have you invested in Click funnels yet? Do you want to crush it in your business or even your side hustle? Then what are you waiting for? Let's go get it. That's the best motivation I can offer.
Go crush it. Go get what only you can get. Start your 14 day FREE trial of Click funnels here.
Clickfunnels Pricing – Gold Digging with Squirrels?
Ever heard of the Harmon Brothers, viral video geniuses? Recently, Clickfunnels hired them to produce a video. Check it out. It's awesome.
I've linked to the video here for your enjoyment. Still on the fence? I hope that after watching this video you see that the platform is worthy of your trust, legitimate, and effective.
Like no other time is history, it's up to you to produce the results for your business.
What is Clickfunnels at the end of the Day?
Clickfunnels is simply an online sales funnel builder that helps businesses market, sell, and deliver their products efficiently in an online marketplace. People ask me all the time, "What is Clickfunnels?". In a jargon sense, it is a funnel builder for online businesses who want to place their product into the marketplace in the most efficient and effective way possible. What I mean here is that we want to see high conversion rates. And we do! With over 50,000 users, sales funnels built with Clickfunnels make over $1 billion (with a B!) dollars every year. Clickfunnels can accommodate any industry or niche. Sales funnels can easily be manipulated and optimized using Clickfunnels which gives users the best opportunity to maximize revenue and scale a modern business platform.
ClickFunnels gives you the tools and great prices to easily create a marketing funnel from scratch and create a high converting funnel. In the wild west of the online business days, there were too many hurdles to overcome: website hosting, autoresponders, landing page vendors. Everything had to work in together and often they did not.
I think you'll find that Clickfunnels is the way to do all of that with one tool.
Begin your 14 Day free trial of Clickfunnels to access the aforementioned bonuses. I am excited to have you in my Clickfunnels crew. You are just one funnel away from achieving your business goals!
Marketing and sales are paramount to any business. At my own companies and those with whom I work, I build everything with Clickfunnels because it allows me to send that all out from one location.
6 Steps To Successful Funnels with Clickfunnels
In my time with online business, I've learned that there are six steps to a successful funnel.  As a thank you for reading this far, I'm going to provide you with my "secret" steps.
#1. Target Phase – Who is your customer? What do they want? How can you help them?
#2. Action – Get to work! Find customers to sell to.
#3. Analyze – Take a look at what succeeded and what did not. Learn from that information.
#4. Optimize – Assess what worked and what didn't work then make the changes you need. I've found that Clickfunnels makes this simple.
#5. Launch – Take what you learned and try again.
#6. Scale – Keep growing your customer base and increase the scale you can give them your products.
Need to learn more than these six? Sign up for Clickfunnels with my affiliate link for free access to my new ClickFunnels Bonus suite. In it, I've included all bonuses mentioned as well as six all original modules. Sign up for Clickfunnels here.
What I Learned Recently at Clickfunnels HQ
It's hard to go to a place like Clickfunnels HQ, spend two days with some of the smartest online marketers in the world, and not tell you all about what I learned and saw.
I'm in Russell Brunson's "Inner Circle," an individual meeting for 100 of the smartest entrepreneurs and marketers. We get to jet out to Boise, ID twice a year to help improve each other's businesses and help one another get better.
There's a ton I learned and think you'd benefit from my sharing. I hope that they can help you.
Here are the "golden nuggets" from our private shop talk session:
Golden Nugget #1 – Everything we're seeking falls into three particulars: (1) Health, (2) Money, (3) Connections.
If you are still seeking  your niche, look into one of those three categories. It's there you'll find a customer to build your business around.
If you already have a business and trying to find news means of money, these three categories are the place to start.
Golden Nugget #2 – "Improvement Offers" are condescending. People don't want to be improved upon. Instead, they want a "new opportunity." Don't call an offer an "improvement."
Make customers an offer that brings them closer to their health, wealth, or relationship goals.
Golden Nugget #3 – Make sure you connect with customer by using proof of your success through a great story. There's money to be made by making these connections. Use a story — your story, a clients' story — as a hook to fortify the value of your service or product
This will tell clients that your services are a value regardless of price point. No one will tell you that you're too expensive or protest a cost.
And those were just three valuable nuggets of knowledge I got in Boise. Even though Clickfunnels is a fundamentally just a software, it's so much more than that: It's about coaching and creating an environment in which we can help clients make their financial and business dreams come true. I think you'll find this software can be trusted to build the best sales funnels on the internet.
Clickfunnels Pricing Review – Who Is Clickfunnels For?
Clickfunnels is for everyone. If you're a part one of these industries or similar business pockets, Clickfunnels will assist you in achieving your dreams:
Marketing Consultants

Agency Owner

Freelancer

Information Products

E-Commerce

Network Marketing

Small Business/Local Business

B2B Lead Generation

Blogger

Affiliate Marketing

Startup

Non-Profit

Just trying to get out of a corporate job
I think by now you've learned that Clickfunnels can work for anyone in any profession. It's a tool designed to maximize your potential. You are the best marketer for your business and no one is going to care about your product the way you do. The growth of your company shouldn't be driven by anyone outside of yourself. You have to be the main driver to get what you want, when you want it, and how.
Clickfunnels will be the vehicle to maximize your time and the headaches on your passage into financial freedom.
Clickfunnels Pricing: Clickfunnels Clickstart Program
For more information, head over to my note on the Clickfunnels Clickstart Program here. If you don't already know about this program, definitely look into it. It is a sales funnel coaching program for Clickfunnels customers who want a shortcut to success. The 8-week bootcamp will put your future into hyperdrive for the price of two payments of $2750. If you want return on investment, or value your time, this program is for you.
It's a six week one-on-one coaching bootcamp designed to turn you into a funnel building expert. As an investment vehicles for your personal wealth, a program like this will give you better returns than any piece of real estate or mutual fund. How do I know? Sales funnels can reach 100%-400% returns systematically. From a business standpoint, Clickfunnels pricing and coaching programs are too good of a deal to pass on.
Russell Brunson has three books (offered at shipping price) that can change inspire you and change your life. Now, if books can work that magic, consider the incredible insights packed into a $97 per month software or a $5500 coaching bootcamp! Click the image below to learn more about the Clickfunnels Clickstart Program and how it can provide a boost to your online marketing funnel efforts.
Final Thoughts on How To Get The Best Deal on Clickfunnels Pricing
If you've read this far, congratulations! Because you have now uncovered my favorite link to get the best pricing deal on Clickfunnels in the universe. It's a one time payment that gets you a full year of Clickfunnels along with six months of their Etison Suite features. Go to this link to learn more at my Clickfunnels Pricing: How To Get The Best Deal blog post and click on the big read button to access!