What is Clickfunnels?
The question "What is Clickfunnels?" is blowing up Google Trend search data these days.
When you're starting an online business, you might not have the resources or the know-how to fully get it off the ground.
There's a lot that goes into building a website equipped to sell a product or service.
For people who don't have tech experience and don't have the funds to pay for a tech team, ClickFunnels can be a great tool.
It will help you get up and running quickly, so you can start making sales.
What Is Clickfunnels – Overview of ClickFunnels
ClickFunnels is a tool you can use to build a professional website easily to sell either digital or physical products.
It offers web page templates, sales funnel templates and a whole host of other tools and features to increase your page traffic and sales.
Users with little or no programming and design experience can pick from pre-made templates to design their site.
Simple drag-and-drop features allow users to easily layout their website however they want.
Users with more experience, who like to have more control, can make any changes they like to the templates – right down to the coding.
ClickFunnels specifically helps people create sales funnels. A sales funnel is the process through which you take a first-time visitor or casual shopper and turn them into a loyal customer.
These funnels can be used to generate leads, sales or interest in online events (like webinars).
It's designed to be user-friendly to help business owners of any experience level to realize their dreams and launch their business.
If you're wondering whether it's worth investing in a platform that has totally nailed sales funnels instead of your bog standard website, read my blog Sales Funnels vs. Websites: A Better Strategy to Get Your Customer to Checkout.
You'll find out why it makes total sense to invest in a platform that's lazer-focused on maximizing your sales from the get-go.
What Is Clickfunnels – Who is it for?
ClickFunnels is for everyone.
The beauty of ClickFunnels is that it can benefit new and experienced business owners.
A lot of the magic happens in the templates and customization.
The templates allow you to build a sales funnel quickly and at a professional level.
Customization allows you to tweak the templates until they fit your exact vision.
As involved or as hands-off as you want to be, ClickFunnels can meet that need for you.
ClickFunnel templates help you to ride on the shoulders of giants and swipe what you need to grow your business and leave the rest.
What Is Clickfunnels – Special Software Features
ClickFunnels offers a ton of features. There's a lot to cover, so I'm just going to dive right in:
Sell a variety of products
Unlike other similar tools, ClickFunnels allows you to sell countless products and services.
Find out how ClickFunnels stacks up to (and crushes) its main rival LeadPages here.
These products and services include:
Any physical products, like books, food and beauty products.

Individual coaching sessions where you work one-on-one with your customers or in a group.

Informational/digital products, like classes, PDFs, eBooks, etc.

Membership programs where people receive a good or service on an ongoing basis.

Webinars or other online events where people can join in to hear a presentation.
What Is Clickfunnels – Landing page design
Build a landing page to capture the attention of new visitors. This can be done easily with Clickfunnels.
Design your landing page in a way that will naturally lead visitors to complete a purchase.
Add, delete or rearrange pages to maximize the effectiveness of your sales funnel.
You can choose a pre-made design to start and customize it as much or as little as you like.
Drag and drop page elements to suit your needs best.
Once you develop a landing page design that you like, use this design to inspire the design throughout your web page.
To get the most out of your landing page to create more revenue, click here for five parts you must split test.
Funnel customization
Once you've selected a funnel that best fits your needs, you can tweak it and make edits until it's set up exactly how you want.
Customization includes the design of the pages that your customer will go through to complete their order.
You can include product images, demo videos, reviews, whatever suits you best.
You can also add, delete and move any pages in the funnel to create exactly the process you want.
There are also different functions you can perform with different sales funnels.
These include:
Tripwire/Unboxing funnels: recommending other related products for upsells.

Sales letter or video sales letter funnels: lengthier descriptions and reviews to help sell a product.

Launch funnel: introduce new products or services.
I've got 23 instantly-downloadable customizable templates to get you started when you sign up for a free 14-day trial of ClickFunnels using my affiliate link.
But that's not all.
Clickfunnels Bonuses
When you sign up for your ClickFunnels 14-day free trial, you'll also get specially-selected bonuses to help your business to succeed.
Here are some of the bonuses waiting for you when you sign up for the 14-day free trial:
– Facebook Marketing Madness – How To Launch High Converting Ads in Any Space.
– A personal ClickFunnels training course.
– 23 pre-built Sales Funnels that can be imported directly into a ClickFunnels account.
– A mini-course in YouTube Video.
– A 100 Day Social Media/Affiliate Marketing Bootcamp.
– Unlimited email support.
– Additional training on how to set up custom domains for free within your ClickFunnels account.
– An email marketing course.
– A funnel hacking playbook to replicate what has made other online entrepreneurs successful with their sales funnels.
– 1 Free copy of Russell Brunson's book, DotCom Secrets.
– Free training video: How to Increase Sales by 150% with ClickFunnels.
What Is Clickfunnels – Funnel scripts
Your copy can either attract your audience like bees to honey or have them running for the hills.
But what do you do if you aren't a copywriting genius?
Don't worry. ClickFunnels have you covered with Funnel Scripts.
This optional feature turns even rookie writers into copywriting pros.
Funnel Scripts gives you scripts that can be tailored to different aspects of your business.
So, if you want to write attention-grabbing emails, webinar opt-in, Facebook ads etc. Funnel Scripts have you covered.
Click here to find out more about how this copywriting magic machine can boost your engagement levels and sales.
Clickfunnels – A/B testing
A/B testing is possibly one of the most useful features that ClickFunnels has to offer.
It allows you to run two different funnels to see which one performs better.
You can make changes as big as the copy and sales video used or as small as the button placement and headline.
There's a lot of components that go into building a profit-making sales funnel.
It can be hard to tell what was responsible for the failure or success of a particular funnel.
A/B testing will allow you to see what your audience responds to best, so you can continue to utilize it in the future.
Clickfunnels – Analytics dashboard
The analytics dashboard will also be helpful in working out which tactics are working best for your business.
You can monitor the performance of different aspects of your sales funnel.
This includes page views, sales, memberships, emails, marketing campaigns and more.
After some trial and error, it will become clear what works best for you and what isn't worth your time and resources.
As time goes on, you'll learn how to market your business in the most effective way.
The best part of the analytics dashboard is that all the work is done for you.
You don't need to input numbers or create formulas. The dashboard automatically tracks the numbers for everything you and your site visitors do on the ClickFunnels platform.
Clickfunnels – Form customization
Order forms, email opt-in forms and other forms required from your audience need to be simple and easy to complete.
If they're too tedious, your audience may walk away the second they see the requirements of the form.
ClickFunnels will help you set up either a one or two-step process to easily take your customers from "only interested" to "completed a sale."
A one-step process would simply be giving information on one page and that's it.
After completing this page, they hit enter and are done with the purchase/opt-in process.
A two-step process is usually for the purchase of a product or service where you would also like to get their contact information, so you can follow-up and market to them later.
Clickfunnels – Instant order bumps
Instant order bumps are prompts that customers receive during checkout to purchase another product or service.
When a customer buys a product, you can recommend that they purchase a similar or complimentary product or another.
Make this process as easy as possible by creating a one-click link that will add the item to the customer's cart.
The quicker the order process, the more likely customers are to make impulse purchases.
There's a huge amount of upsell potential in this strategy.
Clickfunnels – Email auto responder
Use emails or other messaging systems to help find leads.
Send emails, build subscriber lists and create automatic responses all on the ClickFunnels platform.
You can use these emails to promote new products or promotions.
You can also use emails to reach opted-in subscribers to inform them of the latest news in your business and industry.
Some people think that email marketing is dead, but it's still one of the best ways to remind customers of your products and draw them back in.
It's especially effective in bringing customers back to abandoned cart items.
Email marketing is still a great tool for your business and ClickFunnels's email auto responder makes it easy.
Clickfunnels – Follow-up funnels
When someone gives you their contact information, you can use this to engage them with offers and promotions.
Follow-up sales funnels can focus on previously purchased items, how recently they purchased or what site actions the customer performed.
Monitoring customer activity and creating follow-up sales funnels allow you to create super-targeted marketing campaigns in the future.
Clickfunnels Affiliate management
If you plan to use affiliates in your marketing strategy, ClickFunnels can help you manage your affiliates in their platform.
Handle payouts, payment structure, differentiate affiliate types and affiliate materials all in the same place.
By adding just two pages, you can create an affiliate center for your own use and for affiliates' use as well.
It makes the whole process so much easier when you're able to integrate it all into the same platform.
The great thing about ClickFunnels is that you can make money recruiting affiliates for your own products and also be an affiliate for ClickFunnels.
This gives you two revenue streams at your fingertips.
The great thing about ClickFunnels is that there's a great deal of support to help you succeed and their affiliate program is no different.
Find out more about Clickfunnels Affiliate Program – Training Summit here.
Clickfunnels Membership areas
If you want to create membership exclusive content for your audience, you can do that with ClickFunnels.
You can create membership areas, so that they can log in and access information created specifically for them.
These membership areas can host any kind of content for your designated membership-only audience.
You can even host live or pre-recorded webinars through ClickFunnels.
You can include this in your membership-only content or you can make it available to everyone.
Click here for my video of how to create a membership site quickly and easily with ClickFunnels
So, what's all this going to cost?
ClickFunnels is surprisingly affordable taking into consideration all the benefits you get.
Added to that, it really can help you to build a six or seven-figure business, like it has for me.
For a full run down of all the features you get for your buck, read my updated Clickfunnels Pricing Review (I'll also let you in on how to get the best deal).
What Is Clickfunnels Conclusion
ClickFunnels is like a swiss army knife for your business. Irrespective of your experience, you can start up a professional sales funnel in very little time.
Bonus Clickfunnels Post Content
*this article has been updated since the original post*
In the video at the top of this post, I layout what the tool is and actually how I use it in my "tactical triangle". If you've googled the phrase "What is clickfunnels?" You've found the right place.
I'm hoping you've found this post because you were looking for in depth, helpful information on Clickfunnels. Maybe you are building a business. Maybe you already have a successful business and you are trading out marketing tools.
Whatever it is, Clickfunnels pricing and features are the most justified on the market in my opinion. Sure, you can accuse me of being biased because I'm in their affiliate network, but I'm not hiding from it. I also use them for both of my businesses.
The Tactical Triangle and Clickfunnels
1. Traffic and Clickfunnels
Just because you build a killer sales page or a rapturous optin funnel, doesn't mean anyone will ever see it. This isn't Field of Dreams…if you build it, they WON'T come. You have to know how to aggregate your own traffic…to control impressions and get eyeballs on your funnel.
My main source of traffic is Facebook Ads and SEO. Want to learn how to do Facebook Ads and scale them profitably? Send me a private Facebook Message by clicking here.
2. Conversions and Clickfunnels
The majority of Clickfunnels work is done in this part of the tactical triangle. Broadly speaking, Clickfunnels acts as the conversion platform inside your sales funnel. If you can write great copy, have an offer that cures the customer's "bleeding neck pain", then you can build an unstoppable conversion weapon inside of your Clickfunnels account.
3. Economics and Clickfunnels
In order to keep your business running, you have to have the economics on your side. You can create a feedback loop with great traffic, going to great conversions that produce revenue.
Then, you have Gross Revenue and Gross Profit that will fuel more Traffic, to fuel more conversions and so on.
Voila! It's a business!
Be sure to comment below if you have any questions. Also, don't forget, I offer some stellar bonuses if you sign up for Clickfunnels using my links on this page.
Disclaimer: I am an affiliate of Click Funnels and will get paid a commission if you choose to start an account by using one of my links in this post…at no additional cost to you. Plus, if you do use my links I will share with you ALL of my Bonus trainings and tools(see below). This includes 23 sales funnels plus tons of advanced traffic training. Clickfunnels has what are called "Share Links" that you can literally click on and import/clone my funnels into your ClickFunnles account. Sound crazy? Try me. Simply email me once you've started an account at [email protected]. I'll deliver.
– My Clickfunnels Basic training course
– 23 Pre-Built Sales Funnels that you can import directly into your Clickfunnels account.
– How To Rank Youtube Video Fast – Mini Course
– Access to a 100 Day Social Media/Affiliate Marketing Bootcamp
– Unlimited email support so I can help you with your sales funnel that you build with Clickfunnels
– Training on how to set up custom domains for free inside your Clickfunnels Account
– My roadmap to email marketing course
– My funnel hacking playbook so you can mimic what other successful online entrepreneurs do with their sales funnels
– 1 Free Copy of Russell Brunson's book, DotCom Secrets
– Free Training Video On How To Increase Sales By 150% with ClickFunnels

I Hired Clickfunnels Founder To Coach Me
So recently, my company made it into the coveted "Two Comma Club". Here's a pic of my awesome new frame!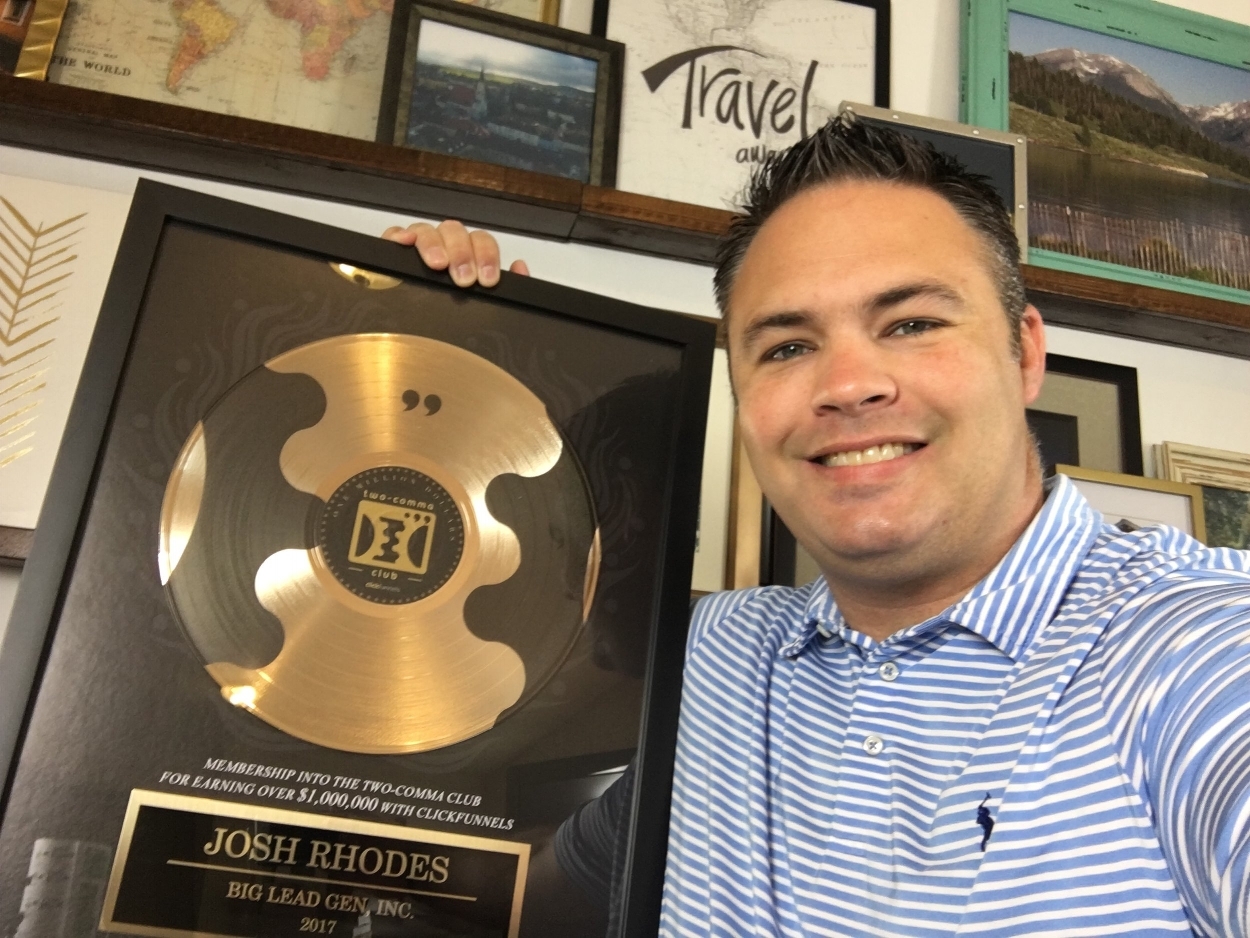 But this frame only made me more hungry. Now, I want to go from 7-Figures, to 8-Figures with Clickfunnels. We are actively acquiring new customers every day with our business. The sales funnel is healthy and we are growing.
What Clickfunnels is allowing us to do is beyond special. What is Clickfunnels doing that other software tools won't allow me to do?
It gives my team and I "elasticity". Other tools are great for "starting out". But, Clickfunnels is too. There's no difference in the beginning use of Clickfunnels or any competitors. My entire team is in love with Clickfunnels because it gives us speed. In the world of online marketing, speed kills.
I've also seen some new competitors pop up in the recent months. We'll see how they do. Ultimately, the value of Russell Brunson's coaching and content is what sets Clickfunnels apart from the rest of the crowd.
Technology is dead without a good message, offer and brain to bring it to life.
I've invested 25K into joining Russell's elite Mastermind, The Inner Circle. In the first few month it has already been worth it. From this point on, by getting coaching at the next level, I'll reach my revenue goals with my company in no time.
Transcription of the What Is Clickfunnels Video Training
Hey, Josh here, you're probably asking the question what is clickfunnels? Well I wanted to create a video; and as a matter of fact, my entire YouTube channel and blog. Eighty percent of it concentrates on sales funnels and particularly the tool that I love to use is click funnel.
Now in this video there's a couple of things I want to do; I want to literally show you around my click funnel account, I want to show you how I build funnels. If you're wondering still at this point what is click funnels? Click funnels is a software tool that you use online that every day normal people like you and me and that's what I am, I'm not some crazy internet superstar. I'm a business owner, I'm an entrepreneur and I run my businesses through click funnels. I build sales pages, I built email lists, I use it as a website builder, I use it for webinar funnels that I do.
Basically if you're looking to scale any kind of business or if you're looking to grow any kind of email, contact list or if you're trying to just literally go to the next level when it comes to sales funnels to go from impressions to lead to prospects to customers click funnels is the tool of choice, in my opinion. Now there's a lot of competitors out there everyone has their favorites, you know nothing's perfect but when it comes down to it asking the question what is click funnels? it's just a sale, it's the best sales funnel software tool on the internet in my opinion and I want to tell you why. I've drawn something on my dry-erase board here, before I transitioned into my click funnels account to show you around.
This is what we call a tactical triangle and I learned this from Perry Marshall specifically genius marketer and great business coach but basically click funnels exist in the middle of this tactical triangle for me in my businesses. Now before I go any further just to give you some stats, I have one business that does over a million dollars in revenue online every year. I run every dollar through click funnels, order forms and sales pages. I have a couple of other businesses one of them is I'm an affiliate marketer and one of Click funnels top affiliate marketers, so by way of disclaimer, I do get paid a commission at no extra charge to you when you start a free 14-day trial click funnels using my affiliate link and I'll put that in the comments section above or below this video somewhere and when you do I actually provide a lot of bonuses that you wouldn't get when you sign up for click funnels by yourself going directly to clickfunnel.com.
For instance, if you use my affiliate link, again at no extra charge to you I send you private membership access to my bonus area. My membership course is built inside of click funnel itself. I get you a basic training course I'll give you 23 pre-built sales funnels that you can import directly into your click funnels account so that's a huge time-saving tool just from a construction standpoint when you're building a business or modifying the current one. Access to a hundred-day affiliate boot camp, marketing boot camp. Unlimited email support so I can help you with your sales funnel if you have questions. Training on how to set up custom domains, a lot of people asked hey can I have my URL in my click funnels account, absolutely. I give you my email marketing roadmap, I also have a funnel hacking playbook so you can mimic what other successful online entrepreneurs are doing "model the masters" as they say.
So I've got an entire play book to show you how to do that and I have access to get you a free copy of Russell Brunson's book.com, Secrets. I read that book, changed my life, changed my business everything and then I have an exclusive training about how to increase sales by a 150% every year by using click funnels okay. I'm one of their dream car winners. I'm honored and blessed and it's a big deal, I get to drive around a BMW sedan now. In another life I wouldn't have been able to do that but thanks to click funnels and because I've been able to serve as many affiliate customers and signups as possible and they honor me with this little trophy but also I qualified to their dream car affiliate prize which I can tell you more if you want my bonuses after you sign up, simply email me Josh AT groovymarketing DOT biz and just say hey I signed up for click funnels can you please send me your bonuses and I'll be happy to, okay.
Back to the tactical triangle, basically this is how business works right you have to have traffic, you have to have eyeballs that matter right that care that you can talk to, this is our potential customers traffic could be anything from Facebook ads right, google ads, SEO, Bing and various other social media advertising opportunities, blogging etc. Traffic must happen so that you can get conversions, now conversions are subjective, they're relative depending on who you're talking to and what kind of business you have. I know people who have sold two million dollars' worth of parakeet training every year using google ads. I also know people to convert done for you services to sale funnel, for instance I have a business called sales funnel madness.com where we build sales funnels for people utilizing the click funnels platform so the convergence could be anything but basically its customers or leads maybe it's email addresses maybe a conversion for you is an appointment these are all things that are relative to your business but at the end of the day are necessary in order to create the economics that drive your business profit, gross profit, gross revenue.
All the things that go into being able to fund your dreams and as a business owner why wouldn't you do that now maybe you're on the side hustle, maybe you are trying to get rolling and maybe you're just trying to get this one dollar symbol rocking and rolling and then maybe you want more economics. Well economic fuels traffic and traffic fuels conversions and conversion fuels more economic so I use click funnels at the heart of everything because even if I'm great Facebook ads but I don't have a high converting optimizing page or I don't have a great sales page or I don't have a great asset online that will further push people through my tactical triangle or around the tactical triangle so that they convert as customers who pay me for my product or service. Well if I can't do that then I can't have a business, I can't have the time freedom that I enjoy now, I can't have the money to pay for my family's future and lifestyles that we desire so it's important for you to embrace not only a tool like click funnels but also a strategy and so that's why I just wanted to touch on that if you're asking hey what is click funnel. It's an amazing tool that will allow you to execute an amazing strategy so without further ado I want to transition into my click funnels account.
Okay, so what you see when you log in to click funnel for the first time is this dashboard and they are a great company they make great updates all the time there on the front leading edge of online marketing so this is just an example of a sales funnel I just wanted to show you kind of how the editor work so I'm going to go to my Facebook marketing madness funnel. Okay, this is a new Facebook advertising boot camp it's a four-week boot camp that maybe by the time you see this video I've launched it. You can go to salesfunnelmadness.com/FBmadness that's how you get. There you can also see this is a custom URL, a custom domain that I was able to create again. I provide that as one of my bonuses to show you how to do that, but basically I'm right outside of the page editor.
This is a sale tunnel that I just started and you can build sales pages so I'm going to click on edit page amd I'm just going to kind of show you how so you can build or at least how the editor works so that it makes sense to you when you start your click funnel account. So currently this is actually a section, you'll notice that all of the page is editable to drag and drop page editor right so I'm able to change and they change copy just by double clicking here I can change element. So the orange boxes that you see, the little orange boxes are elements and they fit inside of rows which are the blue outline here and then the row fit inside of section which is the teal or seafoam green color you see here, right now all of those sections can be managed up here in the top right of the new click funnel editor. This is actually rolled out in January and the power that you have is literally just being able to adjust every single one of these elements row and sections you can move them up and down.
For instance, if I want this dark navy blue section to go up I just hit that arrow over here, up and down and I can make it be at the very top of the page or I can move it back down. I can also make certain sections like this one, I can go into the settings right, and I can hide it, I can let it show currently or I can time it so in five minutes for instance the top of this page will fade in because the top of this page is meant to drive action after they've been on the page for a certain amount of time. But the actual preview of the page I'll show you here, does it show that top section at first because I don't want it to and so this is a close to final sales page for my new Facebook marketing boot camp and these are all the modules I'm able to do graphics icon, screenshot, everything is provided inside of my click funnels editor.
I'm able to provide copy long-form short form, there's my business BMW I mentioned earlier that I won through the dream car contest but I'm able to build a sales page in a sales funnel that allows you to convert sale. Here's a lot of my success stories and testimonies so as you can see I can add payment buttons you name it and some of this maybe elementary to you, I don't know obviously your level of experience but if you're asking question what its click funnels, I'm hoping that this just gives you a better idea. I'm able to build a sales funnel without duct taping tons of all these different software solutions and online tools together. I'm able to do almost everything right inside the confines of my click funnels account. I can even do email if you choose the Edison suite it's two hundred and ninety seven dollars ($297) a month but the normal startup plan is what you probably need it's ninety-seven dollars($97) a month.
They integrate with all the major email systems, integrate with the best payment processors like stripes and easy pay direct and Braintree and a couple of others. Braintree is a paypal product but I get to reorder the sales funnel. I can place my order form directly behind the sales page so that when the button is clicked they go to my order form where the credit card transaction happens. That's all tied into my stripe account and my stripe accounts is tied to my bank account and that's how I get paid and that's how I create revenue so this is a glimpse. Like I said if you start a free trial click funnels today, click on the link in and around this video in the comments, in my blog post depending on where you're watching this, YouTube description and make sure you check it out. Click on the link, start a 14-day trial you don't have much to lose and also one of the coolest things and features is to share click funnel. Click funnel allows me to share an entire pre-built sale funnel, directly over to your account. All you do is click on it and boom it creates the sale funnel inside your account by using a simple share funnel URL that I give you and I have 23 other share funnel links whenever you sign up using my affiliate link. I would be honored and thrilled that you would continue to help me build my click funnels affiliate business but also I hope I've added value to what you do. In some of my other businesses I run done for u digital marketing businesses, Facebook advertising services for various different niches andprofessional industries sales funnel construction. My world is sales funnels and marketing funnels and like I said my flagship tool is click funnels. So if you're interested in kind of going on a similar path, if you're wanting to build a business that could be on the Inc 5000 list someday for fastest growing businesses or if you're just looking for a lifestyle business that allows you to pay for vacations when you want to pay for them or time off or more time with your family or better cars whatever it is you want, you need a sales funnel. It works, you need to use a strategy that works and you need to make sure that strategy rests on the shoulders of an adequate tool and that is click funnel. So start your free trial, let me know how it goes, email me for your bonuses and I'll send you your logins, josh at groovy marketing dot biz. Again, what is click funnel? It is a sales funnel tool that you can use to build your business online. I hope this has been helpful josh at groovy marketing dot biz and Salesfunnelmadness.com, signing off and I hope this has been helpful. Please comment below on YouTube if you see this and subscribe to my channel for more sales funnel madness training. Thanks