Hey Josh here, and if you found this post you are likely interested in Clickfunnels vs Leadpages on some level(along with other notable tools).
I don't know about you, but I'm all about creating more results with less work. Call me lazy if you want, but if you haven't applied Pareto's Principle(80/20 principle) to your business…you're missing out.
Which brings me to the topic at hand…which online application should we use as we build our sales funnels? A.K.A. – Which online resource will give us more results with less effort?
Why I Ditched Lead Pages, Optimize Press and Infusionsoft For Click Funnels
Which landing page/sales page/squeeze page editor is best?
Ever heard of Lead Pages or Optimize Press? If you're running a business online good chances you have.
Both have been around for a while and are formidable.
Both provide templates for sales pages, squeeze pages, video pages and website editing features.
Both say they can explode ROI for your business.
Yet, there is a new kid on the block and he's got his sleeves rolled up: Click Funnels.
Though I have accounts with all three, my scales have tipped in favor of Click Funnels.
I've found that not only is Click Funnels increasing my ROI, it's increasing my ROE(return on effort).
Simply put, I'm able to create an entire funnel with "the click of a mouse" as founder Russel Brunson likes to say.
Lead Pages and Optimize Press templates are more stand alone and come with differing costs.
Click Funnels' functionality is not tied to price.
All the tools, tricks and utilities of their templates come with the basic $97 per month Start-Up package.
More importantly, Click Funnels' templates are completely customizable.
Lead Pages, Optimize Press and Click Funnels all come with many prefabricated templates.
Only Click Funnels allows for the development of customizable templates.
This is a huge advantage if you're looking to have a landing page, opt-in or membership site that is unique to your business.
When it comes to integrations, Click Funnels syncs with all your favorite applications. Auto-responders, shopping carts, marketing automation and more.
Here is a quick list of just some of the applications Click Funnels can integrate with:
GetResponse
Stripe
Infusionsoft
Active Campaign
Ontraport
Aweber
iContact
Taxamo
MailJet
MailChimp
Warrior+Plus
ClickBank
JVZoo
PayPal
Go To Webinar
Webinar Jam
and much more…
Click Funnels Excellent Affiliate Program
Click Funnels presents an affiliate program that pays great commissions. Basically, if you acquire 3 affiliates you have your own account paid for…in continuity. If you're looking for recurring revenue, sign up as an affiliate as soon as you start your CF account.
Full disclosure: I am an affiliate of Click Funnels and will get paid a commission if you choose to start an account by using one of my links in this post…at no additional cost to you. Plus, if you do use my links I will provide you with bonus materials…AND I will share with you my highest converting funnels directly from my account. Sound crazy? See the section near the bottom of this post for a full list of bonuses.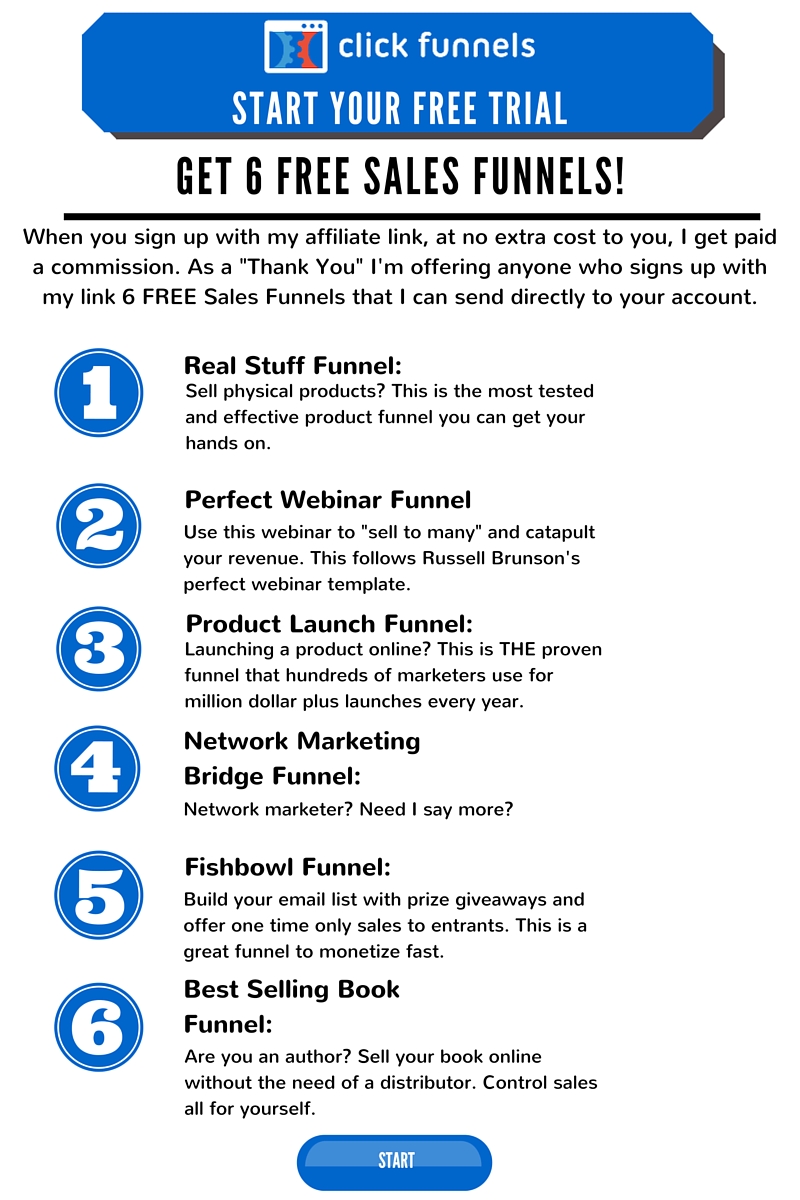 Share Entire Marketing Funnels With Click Funnels
Click Funnels is revolutionizing the way online businesses can skip learning curves now with the ability to share funnels from one account to another.
Know someone who uses Click Funnels that has a successful funnel? They can share it with you. Then you can just tweak it for your own use. Amazing.
Want some of my funnels? Sign up for Click Funnels at this link and I'll email you share links that will magically put my funnels into your Click Funnels account.
Click Funnels versus Infusionsoft
Click Funnels is so good that – depending on your model – you should use it instead of Infusionsoft…
And you know if I'm recommending something over Infusionsoft it must be good…
…because I help run a business with Infusionsoft that generates over 2 Million dollars a year.
What would these instances be?
Are You(or Your Client) Ready Infusionsoft?
If your client does not have the development-bandwidth needed for Infusionsoft Click Funnels is the way to go.
Click Funnels has built in email auto-responder capabilities too.
What Click Funnels is missing is the robust power of Infusionsofts Campaign Builder. The ease of dragging and dropping elements where ever you wish makes up for this in Click Funnels.
Design and Overall Appeal
Infusionsoft just sucks when it comes to design. Let's admit it.
The truth is, Infusionsoft does not make pretty pages but Click Funnels does.
A business online cannot get away with a shotty image these days. Technology has fast forwarded everyone's ability to have great design. Click Funnels allows you to have great design without being a designer.
Mobile Responsive?
We all know by now that Google's algorithm alone is punishing any website that isn't mobile responsive.
Infusionsoft pages aren't responsive. Click Funnels is fully responsive to mobile devices. With the increasing prevalence of mobile device usage, this fun fact speaks for itself.
Full Tech Support
When you have trouble with Infusionsoft, it's usually a roadblock that requires a third party to help you get by it.
Translation? – Additional expense.
The basic Start-Up package with Click Funnels comes with full and fanatical tech-support.
If you don't have an IT budget, this is a stellar bonus.
Click Funnels, Lead Pages and Optimize Press: Pictures Speak Louder Than Words
Here is a graphic you can use to compare Lead Pages, Optimize Press and Click Funnels:
If you sign up with Click Funnels today using my links, I'll give you TWO of my courses and TWO of my proven sales funnels from my own Click Funnels account.
You get Traffic Madness:
You also get my Email Marketing Roadmap:
My Clickfunnels Bonuses Include:
– My Clickfunnels Basic training course
– 23 Pre-Built Sales Funnels that you can import directly into your Clickfunnels account.
– How To Rank Youtube Video Fast – Mini Course
– Access to a 100 Day Social Media/Affiliate Marketing Bootcamp
– Unlimited email support so I can help you with your sales funnel that you build with Clickfunnels
– Training on how to set up custom domains for free inside your Clickfunnels Account
– My roadmap to email marketing course
– My funnel hacking playbook so you can mimic what other successful online entrepreneurs do with their sales funnels
– 1 Free Copy of Russell Brunson's book, DotCom Secrets
– Free Training Video On How To Increase Sales By 150% with ClickFunnels
How To Claim Your Click Funnels Bonuses
#1 – Clear your cookies and cache from your web browser prior to clicking on my affiliate links in this post. Then proceed to click through. Start your 14-day trial here.
#2 – Email me at josh at groovymarketing dot biz and request your bonuses.
It's as simple as that. And yes, I do check my email personally.
I hope this review has been informative and leave any comments or questions that you have in the comment section below.
Here's a review of ClickFunnels Pricing vs. LeadPages Pricing in case you need a deeper look.
How To Increase Sales By 150% with ClickFunnels