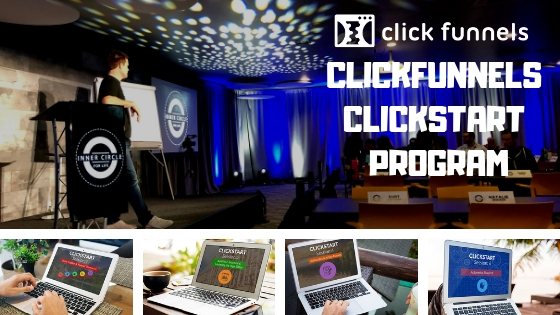 Clickfunnels Clickstart Program – What Is It?
If you are interested in learning more about the Clickfunnels Clickstart Program, you're in the right place.
The folks at our favorite sales funnel software brand created the Clickstart Program after receiving a flurry of requests from their users for 1-1 attention while building sales funnels.
As a business owner, the focus is not only on the bottom line but about making sure the consumer leaves happy as well. We've found a way to effectively achieve both. The ClickFunnels ClickStart Program has proven to be the most effective way to consolidate sales and maximize profits for any business venture.
What Is Clickfunnels?
If you're asking that question at this point, please refer to my post here.
---
**Before we get too deep, I want to be up front by saying that I am an affiliate for this program and at no extra cost to you, I get paid a commission if you use my links to sign up. Having said that, I provide a power packed suite of bonuses as a "Thank You". I'll list those bonuses out at the end of this very thorough review of the Clickfunnels Clickstart Program.
---
Clickfunnels Clickstart – What Happens When I Enroll?
In a special private ClickStart session, an expert will lead you through a series of steps to identify your business, its target audience, and come up with a strategic plan to maximize your companies profits. Afterward, you'll be led through an eight-session tutorial on leading your own path to financial security through well-thought-out and well-executed funnels.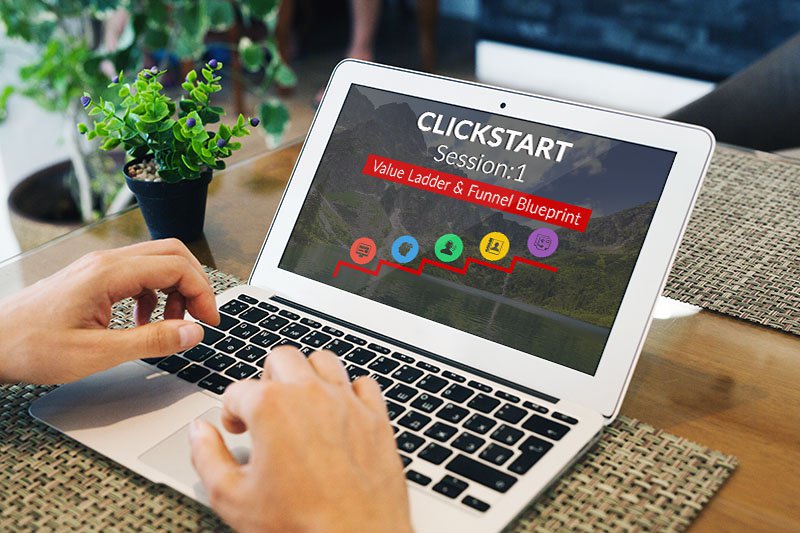 Clickfunnels Clickstart Session #1
Creating Your Value Ladder & Sales Funnel Blueprint
Led by your knowledgeable and experienced ClickStart coach, your first session will focus on personalizing and catering your funnel to your business. This will help your company stand out amongst the crowd, and lead to greater leads and better sales. Whether you opt for a webinar, auto webinar, launch funnel, one-click upsell funnel, membership funnel, or a combination, we'll find a way to meet your business needs.
Clickfunnels Clickstart Session #2
In this session, we are going to help build your funnel. Your ClickFunnels coach will lead you in the build-up by using the blueprint created in session one. In this session, you'll also begin creating copy for your funnel and a script to use with potential clients.
This session starts to make everything seem possible in your funnel. It is very practical and has ton of real application. The Clickstart Coach will walk you through not just strategy and theory, but the building of everything your funnel requires inside of Clickfunnels.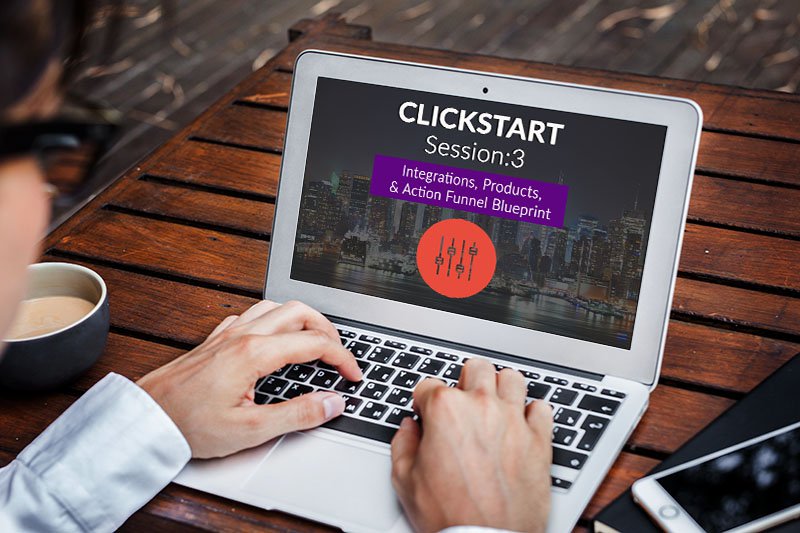 Clickfunnels Clickstart Session #3
We aim to make the learning curve as easy as possible for all our software, but the third session will concentrate on making you familiar with the ClickFunnels software and page editor.
A familiarity with the software will allow you to view, first-hand, how the funnel works through a trial run alongside your ClickStart coach. You will leave this session with expertise on how to manage your funnel and be able to see how it works just as your prospective clients would (which is a great marketing tool!).
Session three will ensure there are zero kinks or glitches within your funnel.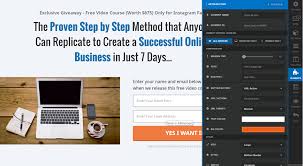 Clickfunnels Clickstart Session #4
Order Pages / OTO / Products / Integrations
We want your funnels to function seamlessly when you launch, so the fourth session focuses on getting your older pages, one-time offers, products, and integrations matched alongside the newer materials. Every element of your site from the auto-responder, web service, SMS, and payment processor is included in this. This is to ensure that, post-launch, you won't have any interruptions to concern yourself with, and so you can focus on driving traffic and revenue.
Clickfunnels Clickstart Session #5
Membership Sites / Back Pack / Funnel Tests
The fifth session is about identifying needs with your coach. Based on your funnel type, this is the session in which you'd discuss important questions regarding necessities like whether or not you need a membership area or whether an affiliate program may be right for your funnel
Your coach is there to offer strategic guidance in session five.
Clickfunnels Clickstart Session #6
Because sometimes a client needs a little nudging, session six guides you through the creation of a "follow-up funnel." An automated follow up will allow you to follow up with leads via text, e-mail, and even direct mail to drive more sales. As we say, "The fortune is in the follow-up."


Clickfunnels Clickstart Session #7
Lists, Action Funnels, and Broadcasts
In the modern business world, the action is taking place 24 hours a day, seven days a week. And so in session seven, the aim is to work with your expert to create lists in order to reach clients with unique messages and provide massive value to them at any time of the day via specialized broadcasts.

Clickfunnels Clickstart Session #8
Funnel Testing, Publishing, Optimizing
You are almost ready to begin earning! It is in session eight in which everything is tied together. We will walk through the funnel to ensure that everything is working correctly. Your coach will show you how to optimize your funnel and beat out all competition and you'll leave with the knowledge of how to continue your success by building more funnels on your own.
Clickfunnels Clickstart Session Costs:
For the full eight-week package and your very own ClickStart Coach, the price is two payments of $2,750.
The most inexpensive ClickFunnels strategy is $97/month. This includes Channel Development Tools but has its limits: 20 funnels, 100 pages, and 20,000 visitors. You also wouldn't have access to Actionetics and Knapsack, which allows you to develop your own affiliate program.
For $297/month, there's the Etison Collection, which includes everything plus unrestricted funnels, web pages, and visitors. Committing for an entire year will save you 16%, which equates to two months free.
There is also a free 14-day trial that allows total access.
My Clickfunnels Clickstart Bonuses That You Can Earn Easily
– Facebook Marketing Madness Training Course – How To Launch High Converting Ads In Any Niche
– My Clickfunnels Basic training course
– 23 Pre-Built Sales Funnels that you can import directly into your Clickfunnels account.
– How To Rank Youtube Video Fast – Mini Course
– Access to a 100 Day Social Media/Affiliate Marketing Bootcamp
– Unlimited email support so I can help you with your sales funnel that you build with Clickfunnels
– Training on how to set up custom domains for free inside your Clickfunnels Account
– My roadmap to email marketing course
– My funnel hacking playbook so you can mimic what other successful online entrepreneurs do with their sales funnels
– 1 Free Copy of Russell Brunson's book, DotCom Secrets
– Free Training Video On How To Increase Sales By 150% with ClickFunnels
How To Claim Your Click Funnels Bonuses
Don't have a Clickfunnels account? No worries. I'm linking to one below. You can get my bonuses by EITHER signing up for Clickfunnels 14-Day trial OR enrolling in the Clickfunnels Clickstart Program.
#1 – Clear your cookies and cache from your web browser prior to clicking on my affiliate links in this post. Then proceed to click through. Start your 14-day trial here.
-OR-
Enroll in the Clickstart Program here with my link.
#2 – Email me at josh at groovymarketing dot biz and request your bonuses.
It's as simple as that. And yes, I do check my email personally.